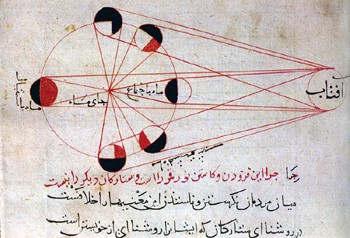 Al-Biruni's diagram of the moon's phases.
Credit: photo reproduction from Seyyed Hossein Nasr, Islamic Social Science: An Illustrated Study (World of Islam Festival Publishing Co., 1976).
Photo use for non-profit educational purposes only.
Ibn al-Shatir, whom we give credit for inventing the first modern sundial with gnomon pointing to the celestial pole in 1371 C.E., is but one of many scientific scholars of Central Asia during the "Eastern Renaissance" that lasted from about 800 to 1500 C.E. In this week's issue of Science, [20 June 2014] Richard Stone reviews the accomplishments of Abu Rayhan al-Biruni (born 973 C.E.) and the possibility that he "discovered" the American continent.
Situated at the crossroads of cultures from China, India, the Middle East, and Europe, al-Biruni was an acomplished astronomer at an early age. At 16 he measured the height of the midday sun and calculated the latitude of his hometown, now in present day Khiva, Uzbekistan.
This year nearly 300,000 students, parents and teachers attended the 3rd USA Science and Engineering Festival in Washington DC during 25-27 April 2014. The Analemma Society and the North American Sundial Society jointly featured a very successful booth to encourage science, technology, engineering and mathematics (STEM) through sundials. The Analemma Society and NASS were among hundreds of exhibits from universities, scientific organizations, government agencies, and companies in the defense and educational industries.
Volunteers from the Analemma Society and NASS demonstrated a number of sundial types and provided paper sundial cut-outs that were enjoyed by children, students, parents and teachers alike. They handed out over 1400 of the sundial cut-outs, with the classic horizontal sundial and Briggs polar dial being the most popular. Especially important were the numerous contacts made with teachers who will now enhance their science classes with sundials.
Volunteers from the Analemma Society and NASS who made this outreach possible were Ken Clark, Jeff Kretsch, Bob Kellogg and Dru Anne Neil. They did a terrific job explaining that indeed, sundials are the world's oldest clocks.
In the photo at left NASS member Ken Clark and Analemma Society member Jeff Kretsch show how sundials work while you dialists cut out their sundials.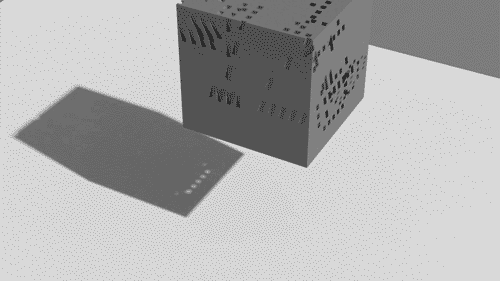 Voshart's Digital Cube
Chindōgu is the Japanese art of inventing ingenious things that are, well, Rube Goldberg. Daniel Voshart from Toronto has designed a solar time-telling cube from 59 stacked millboard plates. [See: Voshart Cube ] The result is a digital sundial, though not as universal as those patented Hines [USP 4,782.472], Scharstein [USP 5,590,093] or Kellogg [USP 05,596,553] but still, it is an interesting dial.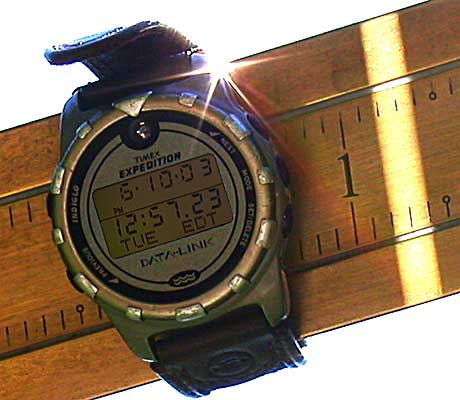 Telling Time with Precision
(By Permission - Bill Gottesman)
The Andalusia Star News reports that the Lurleen B. Wallace (LBW) Community College in Andalusia, Alabama, has a new timepiece that President Herb Riedel says, "… is a device used for practical purposes to keep time, but they also take on a symbolic meeting. For a college campus, I thought it would be very appropriate because it combines science and art."
Indeed, the sundial is a large helical sundial, a modern "Renaissance" sundial designed by Bill Gottesman of Precision Sundials in Vermont.

Members of The North American Sundial Society and Analemma Society will be participating in the 3rd USA Science & Engineering Festival. Mark your calendars for Saturday and Sunday April 26 and 27th at the Walter E. Washington Convention Center in Washington DC. This is a Science, Technology, Engineering and Mathematics (STEM) exposition. In recognition of the Festival's role in making STEM a national priority, Congress recently designated the last week in April as National Science Week.
NASS and the Analemma Society along with other expo presenters have more than 3,000 hands-on activities. NASS and the Analemma Society will introduce students and families to a variety of sundials and offering hands-on activities to cut them out and test them using a solar heliograph. It's all free. Come and learn about Sundials – The World's Oldest Clocks.
The Science & Engineering Festival will also have a book fair—complete with signings by well-known science authors. Bill Nye the science guy will be there as well as Mike Rowe (Dirty Jobs on Discover Channel), Nate Bell (Design Squad on PBS) and the cast and crew from TV shows like Big. Bang Theory, as part of over 100 live stage performances.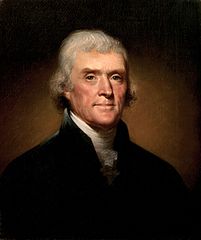 Thomas Jefferson
by Rembrandt Peale-1800
White House Historical Association
Fred Sawyer, President of the North American Sundial Society and editor of the Compendium sundial journal will present a lecture on "Gnomonic Tales of Thomas Jefferson (and other Founding Fathers)" on Thursday evening, April 10th at 7pm at the Great Falls Library, VA. Reservations are required. Contact the Fairfax County Libraries for more information.
The lecture will consider sundials in the lives of Thomas Jefferson and other prominent figures of early America such as George Washington and Benjamin Franklin. Rather than serving simply as timekeeping devices, sundials will be seen as academic exercises, inspirations for poetry, symbols of an industrious new country, invitations to relaxation, and opportunities for invention.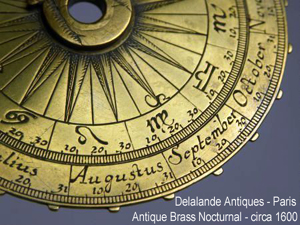 Gallerie Delalande, Louvre de Antiquaires, Paris
The Galerie Delalande, Louvre des Antiquaires in Paris is presenting an exhibition of 150 Pocket and Table Sundials. The exhibit will continue until January 19th, 2014. The gallery is now offering a book "Cadrans solaires / Sundials", written in French and English to illustrate these sundials:. http://www.delalande-antiques.com/exhibition-sundials-paris/book-sundials.html
The Louvre des Antiquaires opened in 1978 and has a beautiful collection of astrolabes and nocturnals, globes and armillary spheres, octants, sundials and equinoctial rings and much more. You can find photos of many of these dials following the link http://www.delalande-antiques.com/marine-sciences/