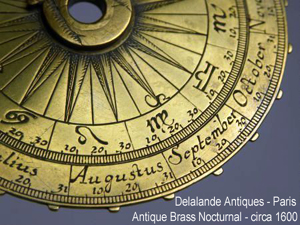 Gallerie Delalande, Louvre de Antiquaires, Paris
The Galerie Delalande, Louvre des Antiquaires in Paris is presenting an exhibition of 150 Pocket and Table Sundials. The exhibit will continue until January 19th, 2014. The gallery is now offering a book "Cadrans solaires / Sundials", written in French and English to illustrate these sundials:. http://www.delalande-antiques.com/exhibition-sundials-paris/book-sundials.html
The Louvre des Antiquaires opened in 1978 and has a beautiful collection of astrolabes and nocturnals, globes and armillary spheres, octants, sundials and equinoctial rings and much more. You can find photos of many of these dials following the link http://www.delalande-antiques.com/marine-sciences/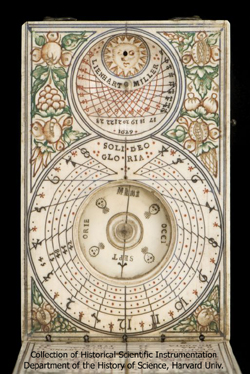 [CHSI - Harvard Collection]
Appropriate to NASS' visit, Harvard had just recently completed a new major exhibit entitled "Time and Time Again" offering conference members a unique view on the changes in time keeping and the social impact of timekeeping technology. On Friday afternoon, NASS members followed the Time Trails through the Harvard campus, locating historical sundials "in the wild" and timepieces in the Semitic, Peabody, and Natural History Museums.
The day was finished by two presentations "Trading in Time: European Pocket Sundials Designed for Colonial Use in American Territories by Sara Schechner and "Portable Sundials in Austrian Museums" by Ilse Fabian.
During Saturday a plethora of sundial talks were presented by NASS members, including "Counting the Sunny Hours" by Roger Bailey to a new "Wandering Gnomon Sundial Designn" by Fred Sawyer. Bob Kellogg presented the making of an animation illustrating the Ibn al-Shatir sundial proposed for Observatory Park in Virginia for the Analemma Society. One of the most color presentations was Art Paque's update on Solargraphy, illustrating the technique of forming daily images of the sun a photographic paper that at the last is digitally scanned and preserved.
> >
Eight years ago the University of Western Australia (UWA) commissioned a talented graduate, artist Shaun Tan, to create an impressionistic sundial for the 100th anniversary of UWA. The fundamentals of the west-facing sundial were delineated by UWA Professor Peter Kovesi of the Geophysics and Image Analysis Group.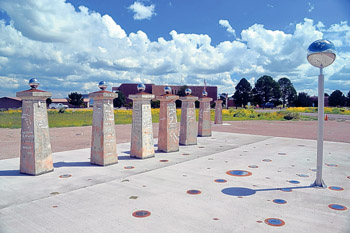 Bracewell Memorial Sundial at VLA
Photo Credit: NRAO/AUI/NSF
In 1961 Professor Ronald Bracewell at Stanford University created an X shaped array (called a "Chris-Cross array" for W.R. "Chris" Christiansen) using 32 10-foot diameter dish antennas to form a radio spectroheliograph nestled in the hills of Palo Alto, California.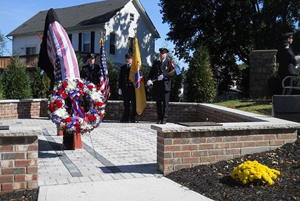 Tom Carpenter, a member of the Hampton fire company for 44 years, presented plans for a 9/11 memorial to the Borough Council at the beginning of 2012 and Councilman James Cregar began designing the memorial as a sundial using beams recovered from Ground Zero of the Twin Towers.
> >
The Battle Point Astronomical Association, founded in 1992, provides astronomical observing for science education and public enjoyment at Ritchie Observatory and Planetarium in Battle Point Park on Bainbridge Island, Washington.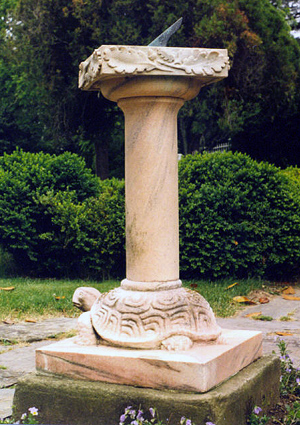 Photos Courtesy of Oatlands Historic House and Garden
Sitting peacefully in the garden of the Oatlands Historic House and Garden near Leesburg VA, is a beautiful, but sadly in need of repair sundial. Each year the Virginia Association of Museums, comprising over 500 museums and historical sites within the state, receives nominations for conservation of Endangered Artifacts.