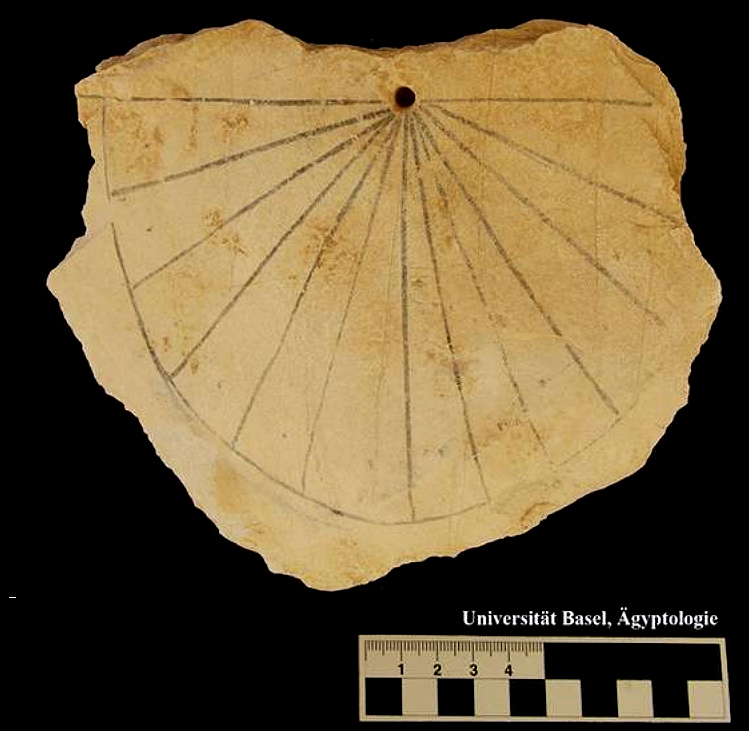 [photo Courtesy University of Basel]
Professor Dr. Susanne Bickel and her archeological team from the University of Basel found one of the oldest sundials in the world during this year's excavation in the Valley of the Kings. A limestone sundial was found near tomb KV61 during a survey of the surface rubble. The location of the dial corresponds to an area where there are remains of workmen's huts dating to the Ramesside Period of the 13th century BCE.
The dial was most likely a vertical, south facing sundial. The horizon line of the dial is about 16 cm across with a hole at the mid point to hold a simple horizontal metal rod or wood stick gnomon, indicating that the gnomon displayed shadows of temporal (seasonally uneven) hours. The limestone dial has a black painted semicircle. On each side of the vertical noon line are 6 segments of about 15 degrees each, representing morning and afternoon temporal (seasonally uneven) hours. Small dots in the middle of each hourly segment serve for even finer timing. Nevertheless, the hour lines are not drawn with precision.
Read more: 13th Century BCE Ancient Egyptian Sundial Discovered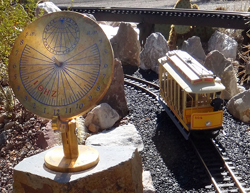 [photo courtesy of John Carmichael]
In 2002, the North American Sundial Society recognized John Carmichael with the Sawyer Dialing Prize as an eminent artisan who creates a wide variety of sundials, principally in stone and glass. In recognition, John received a small brass equatorial sundial made by the renowned British artisan Tony Moss. But for nearly a decade the sundial remained on John's workbench never seeing the full light of day.
Recently Mr. Carmichael completed a 24:1-scale model railroad in his back yard (http://www.flickr.com/photos/jlcarmichael/sets/72157632430552837/with/8348506244/). Now his Sawyer Dialing Prize sundial finally sits in the Arizona sun as a miniature "Monumental Sundial" at the Trolley Station. At the 24:1 scale, the 3-inch dial assumes the proportion of a large 6-foot equatorial sundial. You can see John Carmichael's dials at http://www.sundialsculptures.com/.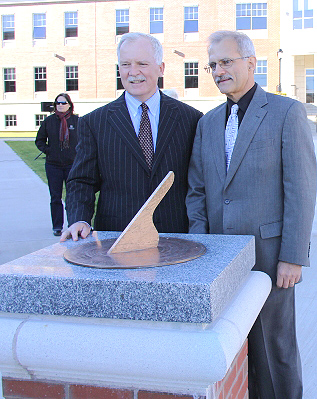 [Photo courtesy of Holland College]
In 2009 Holland College on Prince Edward Island began a major $17M renovation and expansion program, including a large open-space quadrangle. Vice President Michael O'Grady was commissioned Tony Moss of Lindisfarne Sundials [now retired] to make a replica sundial Captain Samuel Holland had given to Dartmouth College, New Hampshire in 1773. Tony undertook the work to create a copy of the dial, redeclinating it to the new site in Charlottetown in Prince Edward Island with the proviso that he "might replace the original ... chapter ring scrolls with some of my own design." Tony further commented, "I think the engraver was indulging an apprentice with the less-critical parts of the job..."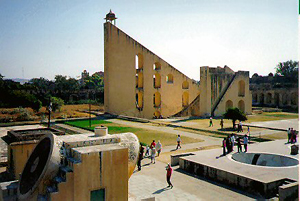 Sudhanshu Mishra reports in Mail-Online-India that the World Heritage Site at Jaipur, the Jantar Mantar astronomical observatory is in severe decline because of neglect.
Maharaja Sawai Jai Singh, also known as Singh II, directed several the building of a astronomical observatories at Ujjain, Varanasi, Jaipur, Mathura, and Deli. From his research, Jai Singh II concluded that accuracy of observation could only be obtained with large, stationary instruments. The giant Jaipur observatory consisting of 16 different instruments took 15 years to build and was completed in 1734.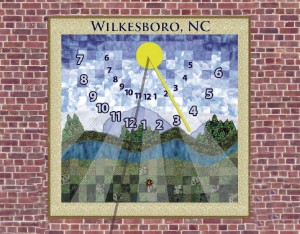 [photoCourtesy of the Wilkes Journal-Patriot]
Some sundial artisans and their work are instantly recognizable. Back in 2010 on the wall of the Yancey Times Journal building in Burnsville, North Carolina, astronomer Bob Hampton and artist Martin Weaver created the Quilt Block Sundial, an 8x8 foot vertical dial colorfully painted by volunteers from the Quilt Trails of North Carolina.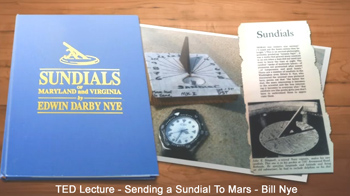 Bill Nye, The Science Guy gives a 7 minute TED-ED talk describing the excitement of creating sundials on Mars. http://ed.ted.com/lessons/sending-a-sundial-to-mars-bill-nye
TED stands for Technology, Entertainment, and Design, a nonprofit organization devoted to spreading ideas of worth. Conferences are held each year with more than 50 guest speakers to motivate the audience on many different fields and now through YouTube, you can share the excitement of sundialing.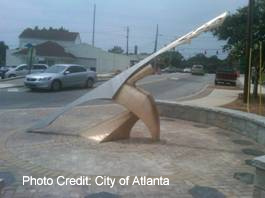 This weekend on October 6th a new sundial was dedicated in Atlanta, Georgia. Ayokunle Odeleye, nationally renowned artist, has created a modernistic bronze and stainless steel sundial called "Chi Wara Sundial Lantern." The 8-foot tall sundial is accessible at ground level, sitting in a 20-foot circular plaza with hour marks at the circumference.
Interestingly, it functions as a sundial by day, but shines as a lantern by night. The public artwork honors twelve community leaders from Cascade Heights located in southwest Atlanta for their spiritual and cultural contributions to their community and Atlanta.
Odeleye's sundial took inspiration from Mali folklore of West Africa and the headdress of Chi Wara, a mythical creature that is half-man and half-antelope. As noted by the city of Atlanta, the sundial represents "a headdress in special ceremonial harvest dance designed to pass on knowledge from the elders to young people in the viliage. Odeleye's 'Chi Wara Sundial Lantern' interprets this mythological image and conceptually uses it to suggest the ceremonial passing of scholarship from Cascade elders to the youth of this community."
Read more at: Saporta Report - David Pendered - Oct 3, 2012