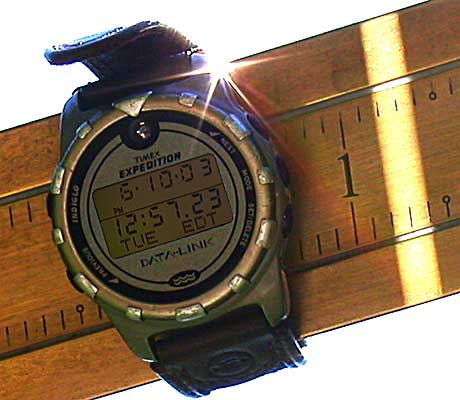 Telling Time with Precision
(By Permission - Bill Gottesman)
The Andalusia Star News reports that the Lurleen B. Wallace (LBW) Community College in Andalusia, Alabama, has a new timepiece that President Herb Riedel says, "… is a device used for practical purposes to keep time, but they also take on a symbolic meeting. For a college campus, I thought it would be very appropriate because it combines science and art."
Indeed, the sundial is a large helical sundial, a modern "Renaissance" sundial designed by Bill Gottesman of Precision Sundials in Vermont.

Members of The North American Sundial Society and Analemma Society will be participating in the 3rd USA Science & Engineering Festival. Mark your calendars for Saturday and Sunday April 26 and 27th at the Walter E. Washington Convention Center in Washington DC. This is a Science, Technology, Engineering and Mathematics (STEM) exposition. In recognition of the Festival's role in making STEM a national priority, Congress recently designated the last week in April as National Science Week.
NASS and the Analemma Society along with other expo presenters have more than 3,000 hands-on activities. NASS and the Analemma Society will introduce students and families to a variety of sundials and offering hands-on activities to cut them out and test them using a solar heliograph. It's all free. Come and learn about Sundials – The World's Oldest Clocks.
The Science & Engineering Festival will also have a book fair—complete with signings by well-known science authors. Bill Nye the science guy will be there as well as Mike Rowe (Dirty Jobs on Discover Channel), Nate Bell (Design Squad on PBS) and the cast and crew from TV shows like Big. Bang Theory, as part of over 100 live stage performances.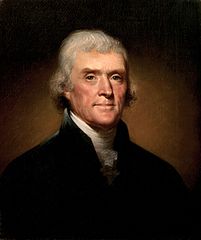 Thomas Jefferson
by Rembrandt Peale-1800
White House Historical Association
Fred Sawyer, President of the North American Sundial Society and editor of the Compendium sundial journal will present a lecture on "Gnomonic Tales of Thomas Jefferson (and other Founding Fathers)" on Thursday evening, April 10th at 7pm at the Great Falls Library, VA. Reservations are required. Contact the Fairfax County Libraries for more information.
The lecture will consider sundials in the lives of Thomas Jefferson and other prominent figures of early America such as George Washington and Benjamin Franklin. Rather than serving simply as timekeeping devices, sundials will be seen as academic exercises, inspirations for poetry, symbols of an industrious new country, invitations to relaxation, and opportunities for invention.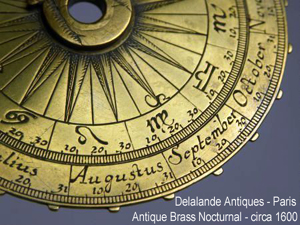 Gallerie Delalande, Louvre de Antiquaires, Paris
The Galerie Delalande, Louvre des Antiquaires in Paris is presenting an exhibition of 150 Pocket and Table Sundials. The exhibit will continue until January 19th, 2014. The gallery is now offering a book "Cadrans solaires / Sundials", written in French and English to illustrate these sundials:. http://www.delalande-antiques.com/exhibition-sundials-paris/book-sundials.html
The Louvre des Antiquaires opened in 1978 and has a beautiful collection of astrolabes and nocturnals, globes and armillary spheres, octants, sundials and equinoctial rings and much more. You can find photos of many of these dials following the link http://www.delalande-antiques.com/marine-sciences/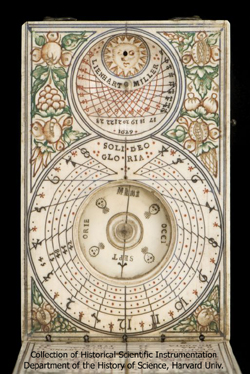 [CHSI - Harvard Collection]
Appropriate to NASS' visit, Harvard had just recently completed a new major exhibit entitled "Time and Time Again" offering conference members a unique view on the changes in time keeping and the social impact of timekeeping technology. On Friday afternoon, NASS members followed the Time Trails through the Harvard campus, locating historical sundials "in the wild" and timepieces in the Semitic, Peabody, and Natural History Museums.
The day was finished by two presentations "Trading in Time: European Pocket Sundials Designed for Colonial Use in American Territories by Sara Schechner and "Portable Sundials in Austrian Museums" by Ilse Fabian.
During Saturday a plethora of sundial talks were presented by NASS members, including "Counting the Sunny Hours" by Roger Bailey to a new "Wandering Gnomon Sundial Designn" by Fred Sawyer. Bob Kellogg presented the making of an animation illustrating the Ibn al-Shatir sundial proposed for Observatory Park in Virginia for the Analemma Society. One of the most color presentations was Art Paque's update on Solargraphy, illustrating the technique of forming daily images of the sun a photographic paper that at the last is digitally scanned and preserved.
> >
Eight years ago the University of Western Australia (UWA) commissioned a talented graduate, artist Shaun Tan, to create an impressionistic sundial for the 100th anniversary of UWA. The fundamentals of the west-facing sundial were delineated by UWA Professor Peter Kovesi of the Geophysics and Image Analysis Group.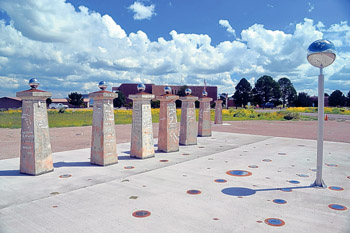 Bracewell Memorial Sundial at VLA
Photo Credit: NRAO/AUI/NSF
In 1961 Professor Ronald Bracewell at Stanford University created an X shaped array (called a "Chris-Cross array" for W.R. "Chris" Christiansen) using 32 10-foot diameter dish antennas to form a radio spectroheliograph nestled in the hills of Palo Alto, California.