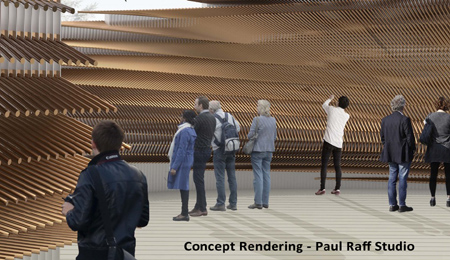 A memorial, the Arc of Memory, will be completed in 2018 on the west side of the Garden of Provinces and Territories in Ottawa. The design by Paul Raff's Sutdio is a "living calendar". Raff described the memorial as a way to "honour the 8 million Canadians that can trace their origins to countries that suffered oppressive regimes of communism by creating an instrument of memory." In essence Raff is designing a huge digital sundial (or as he calls it, a "three dimensional calendar"). According to Erin Dommely of Azure Magazine, the memorial is constructed of two curving walls 4 x 21 meters containing 4,000 short bronze rods arranged in 12 dense rows across a series of 365 stainless steel fins. Erin describes the Arc of Memory's principle of having each rod uniquely angled towards the sun, whereby each hour of the day is illuminated each day of the year.

The two walls are split at the winter solstice and "On the darkest day of the year the design would invite visitors to step through in a metaphorical journey from darkness and oppression to lightness and liberty."
Read more at: http://www.azuremagazine.com/article/memorial-victims-communism-design-revealed-ottawa/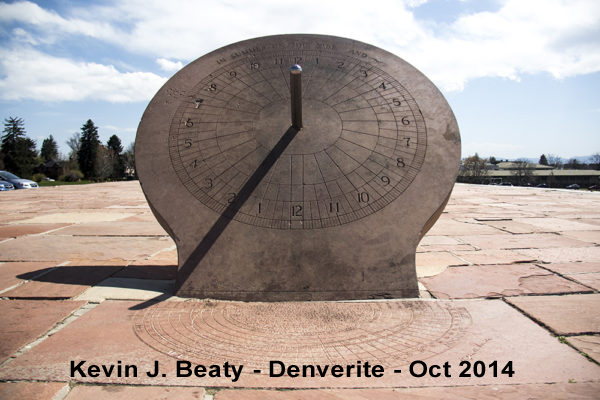 Cranmer Park and the Erickson Equatorial Sundial are now scheduled for rennovation. The original Erickson dial was installed in 1941. Cranmer wrote in 1950 that "the sundial is only seventeen seconds of time East of the 105th Meridian on which Mountain Time is based, and since the whole setting is so accurate, one can set his watch by it." But in 1965 vandals blew the dial apart with dynamite. The community rallied, and by 1966 the Erickson company made and installed a copy of the original dial
But climate and a sinking foundation led to the deteriation of the dial and surrounding terrazzo plaza. Back in June, 2014 The City of Denver generously committed $545,000 to the restoration of the Cranmer sundial and plaza through the Parks and Recreation and the Arts and Venues departments with the proviso that citizens raise another million dollars.
A group called "Save Our Sundial" began fundraising and an article of support appeared on this North American Sundial Society website. To date the article has over 3500 views. More important, the "Save Our Sundial" project, has now raised $680,000. According to Andrew Kenny of the Denverite, "One major donor, the Harmes C. Fishback Foundation Trust, is led by a descendant of Mayor Benjamin Stapleton, whose administration built much of the park." The City Council has now increased its committment to $870,000.
The Denverite quotes Mark Tabor, assistant director for planning that "The city will have to put the contract before Denver City Council and hopes to start construction this year, with a likely 6 to 8 month construction process." And from Denise Sanderson, a local advocate and organizer for the park restoration, "So, what we're doing is we're reconstruction the whole thing – taking it down to the ground, building a foundation and building a drainage system," including repair of the chipped sundial and restoration of the inlaid terrazzo depiction of the Rocky Mountains landscape.
Read more at the Denverite: https://www.denverite.com/looks-like-cranmer-park-sundial-will-saved-33833/

Back in February of 2017 the longstanding timepiece on Railway Street in Chatham was removed as part of Medway Council's plan to de-clutter the business district. The dial was installed on October 21, 1994 to commemorate Admiral Lord Nelson, who in 1805 achieved victory at the Battle of Trafalgar on a Chatham built ship. According to Lynn Cox (http://www.kentonline.co.uk/medway/news/sundial-supporters-want-it-put-123963/) at Kent Online, "Medway Council says the sundial is intact and in storage while its new location is decided....A council spokesman said: 'The sundial has been removed as part of our Chatham Place-Making works which involves de-cluttering the area and creating open spaces for pedestrians.' " In another article by Kent Online, "A Medway Council spokesman said: 'This is all part of the Chatham placemaking project to improve the public realm and open up the route from the railway station through New Cut, St John's Square and Railway St and Military Road, down to the bus station.' "
It is not clear why the removal of the sundial, a visible attraction high above pedesterian traffic on the south wall of Wetherspoon's Thomas Waghorn pub degrades open space and impedes pedestrian traffic. Does the Council consider this memorial mere clutter and a blank wall more esthetic? Or perhaps looking at the sundial for the time is more wasteful than looking at one's smart phone. Perhaps removing the pub sign or eliminating the overhanging street lights would be more appropriate to clearing Railway Street of clutter. It appears that the Council has followed Johanathan Swift with a modest proposal to remove the Lord Nelson memorial sundial.

Mr. Chrisopher Daniel, designer of the vertical declining gnomonic sundial points out that unless the dial is realigned slightly off south using the declination of the pub's wall, the dial will no longer keep accurate time nor point to the date of the Battle of Trafalgar. Lynn Coxof Kent Online records Mr. Daniel saying, "Frankly, it totally beggars belief that such an historic and fully recorded and registered heritage asset as this can apparently be summarily dismantled and, this done without any researched consideration as to how and where it might be relocated and more importantly, how it might be repositioned so that it operates exactly as before. Sundials of this accuracy are scientific instruments which have been designed solely and uniquely for the exact latitude and longitude of the location of the dial plate and also for that plate's accurate azimuth and elevation."
We implore the Medway Council to restore the sundial that has accurately told time and date for 23 years.
Sad note: A recent check of Google shows that the dial was removed in early 2016 and the lot that supported garden education is now a housing complex.
In a small park at the intersection of Morningside Dr SE and Silver Ave SE in Alburquerque, NM. is a unique horizontal sundial designed for the Nob Hill Main Street program, where the 10-foot diameter sundial anchors the southeast corner of the Nob Hill Community Garden. Created several years ago by Mike Heighway and Mira Rose, Mike explains, "The purpose of the Nob Hill Sundial is to act as an interactive gardener's guide. It works on an annual cycle by casting a shadow from a large center piece (the gnomon) onto a concrete plate with embedded steel [diurnal] bands and porcelain tiles that describe that month's gardening activities."
The sundial acts as an educational tool for gardeners to show what to plant throughout the year, and when to harvest. Instructions are on porcelain tiles. There are a total of 17 tiles — one tile for each month of the year, one winter solstice tile, one summer solstice tile, one tile for both equinoxes, a centering tile (the tile which dictates the very center of the design), and a "hero" tile in the shape of a historic U.S. highway sign with information about contributors to the project. Most prominent is the acknowledgement of the Garden Design by Robert Strell and Grant Funding from the New Mexico Centennial Foundation.
Read more at http://www.mikeheighway.com/projects/nhsd.html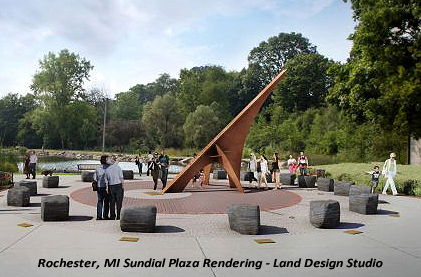 Rochester, Michigan was settled in 1817 and is now celebrating its Golden Centennial with a sundial. The city is on the northern outskirts of Detroit, with more than thirteen thousand citizens. According to Natalie Broda, Rochester City Council approved $190,000 for the sundial, but the cost of the project is expected to exceed that due to the unstable, uncompacted ground that the heavy monument will sit on." The dial will be unveilled as part of the bicentennial homecoming envent scheduled for August 12, 2017.

Broda continues,""The sundial is the brainchild of Rochester's city beautiful commission, which had been mulling the project over for several years according to Nik Banda, deputy city manager. The project was chosen after a request for proposals was sent out from city council." The sundial design was done by Russell Thayer, a sculpture artist from Franklin, Michigan.

The 20-foot tall gnomon of triangular cross section will be constructed with weathering steel, otherwise known as corten steel. Broda notes that this material was chosen to pay homage to the steel used throughout the old knitting mills of historic Rochester.

aewinc.com describes the surrounding hour marks as part of "Twenty stones [each weighing over 1000 pounds] within and surrounding the plaza have been carefully sited to celebrate twenty decades of history. The decorative stones are indigenous to Michigan and have colors that complement the gnomon; they will serve as both seating and focal elements, as well as [hourly] time markers for the sundial. Historic plaques will be placed on the stones highlighting historic events which occurred during each of the twenty decades." To increase the historical retrospective, reclaimed 100-year old bricks from historic Main Street buildings will be used to complete the circular plaza around the sundial monument.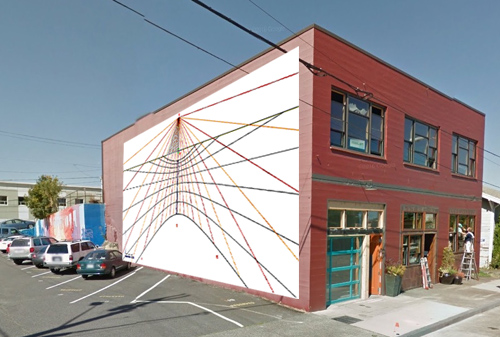 In Bellingham, WA there is a small, plain building with a 54 x 28 feet south facing wall. What kind of a vertical sundial can you imagine on that wall? The Allied Arts of Whatcom County is making a request for proposals for "The International Bellingham Wall Sundial Mural Competition". NW Sun Works, a small group dedicated to the creation of sundials and public artworks, is seeking artist proposals for a working vertical sundial and mural. It is to be constructed on a south facing wall in Bellingham, WA. on a private building near the downtown core. The project is open to any artist, muralist or sundialist, including teams of people who would like to work together.

Proposals may be made by artists, persons, or teams for:
submit a design proposal only
submit design proposal with ability to create the mural
submit design proposal with ability to do any mural and installation of sundial time telling elements.
If the winning design is a 'design proposal only', they will have local talent available to complete any work required for the sundial portion and for any mural/artwork involved. To demonstrate what a vertical, south facing sundial looks like, the group used the Sonna 4.01 software by Helmut Sonderegger (available at Sonne403 Sundialists Software) to present a deliniated vertical sundial for the Bellingham latitude of 48.75 deg at 2.48 degrees west of the 120th time zone meridian.

"Bellingham is a hidden jewel of Washington State filled with people who are forward thinking and enjoy the outdoors. Protected by the North Cascade mountains and bumped right up to the bay, our views are speckled with island's, volcanic mountains, numerous lakes, thick mossy forests, and are surrounded by small farms. Our city thrives on small businesses which fill our brick buildings thanks to our community which encourages handmade and locally sourced goods. Bellingham is very unique, and we hope for the designs to reflect this vibe."

Read more at: http://www.alliedarts.org/sundial-mural-competition/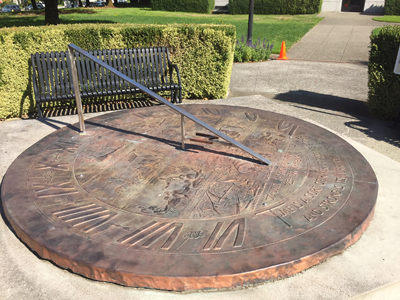 What do you do when your state's college Capitol Campus in Olympia, WA has a beautiful sundial designed by John Elliot, but a wimpy gnomon? The dial has been subject to a poorly designed and vandalized gnomon since it was installed in 1958. Now the Washington State Department of Enterprise Services "invites student designers to create a design for a functional, accurate, and aesthetic gnomon for the state's Capitol Campus sundial." To be eligible for the design contest, students must be enrolled in a Washington State community or technical college. The contest encourages student teams and an honorarium of $1000 will be awarded for the winning design.
The gnomon must be made for the sundial latitude of 47 degrees, with a maximum base length of 39.5 inches (1003 mm) to fit the 6 foot diameter circular sundial with center offset gnomon . "Practical concerns such as strength, resistance to vandalism, ease of maintenance, cost, and method of attachment will also be important aspects of a winning design." Esthetics of gnomon style, artistry, and content that blend with the sundial and capitol campus environment are important criteria.

Entries are due by February 24, 2017 and the winning design will be announced March 10, 2017. Read more at : http://des.wa.gov/services/facilities-leasing/capitol-campus/memorials-and-artwork/territorial-sundial/sundial-gnomon-design-contest