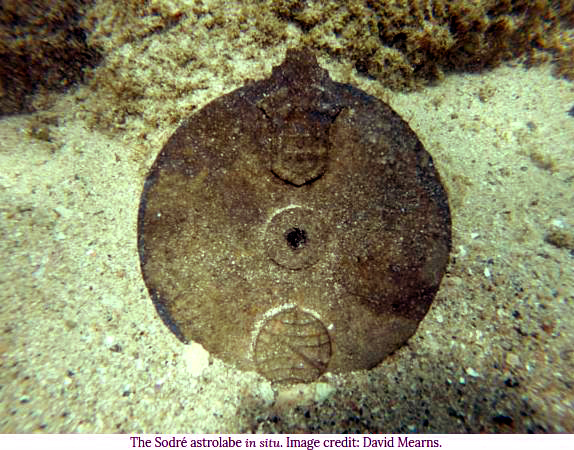 A team led by David Mearns reported on the oldest Mariner's Astrolabe in a recent article of the International Journal of Nautical Archaeology. During a 2013-2014 series of diving expeditions off the coast of Oman they discovered a Portugues solid leaded-gunmetal disk astrolabe. As the authors put it, "A well-documented and dramatic story from one of the earliest Portuguese foyages to India ... involves the loss off two naus [sailing vessels], the Esmeralda and Sao Pedro, which sank in shallow waters off the coase of a remote Omani Island in the Arabian Sea." What has made this legend is that these ships were part of a Portuguese armada to India led by the legendary explorer Vasco da Gama. Mearns tells the story that following the return of da Gamma and the main fleet to Portugal in February 1503, Vicente and Bras Sodre, uncles of da Gama, led their two ships back to patrol the waters off the south-west Indian coast. But Vicente sailed his squadron to the Gulf of Aden where they looted and burnt a handful of Arab ships. "Vicente then took his ships to Al Hallaniyah ...where they found a safe anchorage to shelter from the south-west monsoon...It was in this location, in May 1503, where a sudden and furious wind tore the two naus from their moorings and drove them against the rocky shoreline smashing their wooden hulls and causing the deaths of many crew, including the squadron commander Vcente Sodre"
Recovered from the ocean after 500 years was the 17.5 cm 344 gram metal Sodre astrolabe as well as more than 2000 other metal and ceramic artifacts. The were slowly desalinated over a period of two years. The astrolabe was clearly decorated with the Portuguese royal coat of arms at top and an esfera armilar (armillary sphere) at bottom. But there was no alidade or any visible gradations. Using laser imagery a total of 18 scale marks became visible along the limb of the upper right quadrant with a spacing of 5 degrees. These marks probably extended to make a full 90 degree quadrant. The solid metal Sodre astrolabe is a rarity, for shortly after 1500 a new generation of open ring astrolabes emerged. An illustration of a mariner's astrolabe from the Boria Chart (1529) shows a ring planisphere with angles marked for 180 degrees. The new open design remaind stable in the wind and became the dominant navigation instrument for the next 170 years. Read the full article at https://onlinelibrary.wiley.com/doi/epdf/10.1111/1095-9270.12353 or a short condensed version at World's Oldest Mariner's Astrolabe Found | Archaeology | Sci-News.com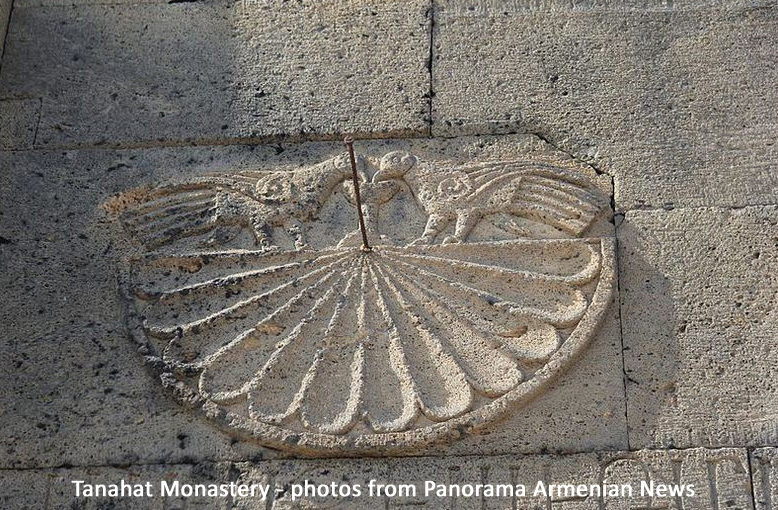 Last February in the Panorama Armenian News an article reviewed some of the oldest sundials in Armenia. Piliposyan, Doctor of History at the Preservations Service for Historic-Cultural Reserve-Museums and Historic Environment (SNCOT) related that the oldest sundial may be on the Zvartnots temple dating to the 7th century. Sundials have been preserved on buildings of Dsegh, Tsakhkadzor, Dilijan, Noyemberyan as well as Nagorno Karabakh churches. Sundial also were curved on khachkars [Armenian cross-stones]. In the Panorama article Piliposyan said that apart from serving as clocks, sundials served as a means of communicating with god. He brought the example of the Zvartnots temple sundial found during excavations with enclosed documents calling on prayers to talk to god whatever time it was.
The vertical dials had horizontal gnomons and on the dial face there are typically 12 equally spaced divisions to mark the hours. Frank King commented on the dials that "These are variants of the standard European sundials used for indicating 'unequal [temporal] hours', at least approximately, in medieval times. Several thousand survive in England alone. They divide the daylight period from sunrise to sunset into 12 parts. Unfortunately, these parts are not equal in time and their relationship varies with the time of year....The examples in the photographs seem very nicely made."
To appreciate the Medieval Armenian dials as well as modern interpretations, visit https://www.panorama.am/en/news/2019/02/23/Armenian-sundials/2076856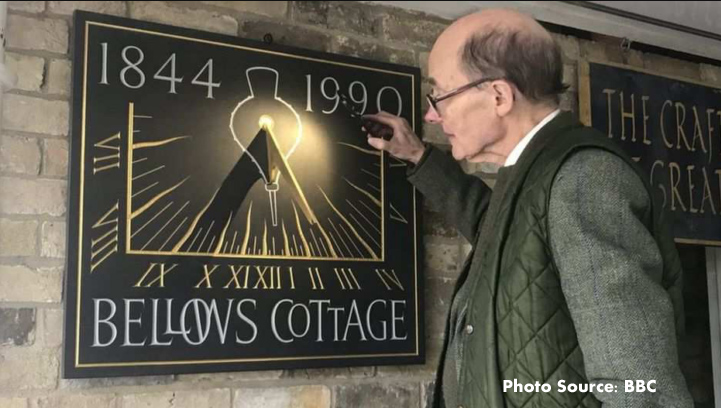 It's rare that a sundialist casts a shadow on UK education, but that's exactly what Dr. Frank King did the other day in a BBC interview (https://www.bbc.co.uk/news/uk-england-cambridgeshire-47133011). Dr. King, a Fellow in Computer Science at Churchill College, has long been intrigued with time remarking to the BBC in an interview, "Anything from atomic clocks to the most ancient of sundials I can tell you about." He is Keeper of the Clock, responsible for Cambridge University's official timepiece on Great St. Mary's Church. But the number of people interested in sundials is on the wane. As president of the British Sundial Society,(a group like the North American Sundial Society who all truly enjoy time systems and the anciernt and beautiful art of designing sundials) Dr. King notes with sadness that the number of people who "really understand" the science behind sundials "are few and far between..... There seems to be no teaching of spherical triangles, and very little teaching of solid geometry. How many school leavers have heard of Euclid?"
Some could argue that who needs sundials in this age of digital watches, GPS navigation, and fit-bit monitors? The UK Register reports that "[Dr.] King would likely be deeply saddened to know, then, that there are people of adult age out there incapable of reading analogue clocks." But for those interested in promoting STEM in schools and getting students excited in something beyond designing a video game, the study of sundials offers a wonderful perspective. As stated by the BBC, "Dr. King strongly believes the sundial - 'the perfect collaboration of science and art' - has a place in the digital age. But he is concerned that the skills needed to create them may dwindle, and believes education could play a greater role."
The development of an aethetically pleasing sundial involves using digital computer aided design tools that sometimes significantly altering classic designs. Sundials requires artisan skill and craft for the selection of materials, casting, engraving and even 3D printing of dials. A sense of artistic proportion is needed to create pleasing embellishments that still remain true to the underlying mathematics that convey acurate time. Artist, sculpture, craftsman, geometer, mathematician, computer programmer, engraver and metal worker are but a few of the talents encompassing the talents of a dialist.
Read more at:
https://www.theregister.co.uk/2019/02/18/sundials_dying_out_and_millennials_are_to_blame/
https://www.telegraph.co.uk/news/2019/02/17/sundials-risk-dying-young-people-arent-interested-cambridge/
As of Feb 8, 2019 the NASS sundials.org website has been upgraded with the latest Content Management System. Users of the website should see little change, as the content and the layout has been maintained. We appreciate all of you who visit this website. Our goal is to engage you into the history, current events, and mathematics of the many different types of sundials that exist across North America. Our sundial registry has nearly one thousand dials. You may easily search the NASS website by using the search feature in the top right-hand column. For example you can type the word "equatorial" and find articles and sundials all related to the equatorial type dial. Or you could type "Boston" to find dials from that city. Welcome to our new Content Management System. This email address is being protected from spambots. You need JavaScript enabled to view it.