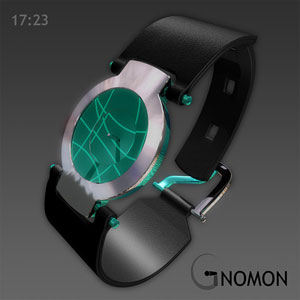 A novel wrist watch is being proposed which uses LED's instead of the sun to cast shadows. Proposed by an individual named Anders who lives in Sweden, the watch, which is still just a concept, is read much like a conventional analog watch. But instead of an hour hand and a minute hand, it uses LEDs which rotate around the outer ring of the dial and shine on a small gnomon at the center of the watch. One LED casts a shadow for telling hours and another for telling minutes. It is too soon to tell whether this concept watch will prove popular enough to manufacture.
A rare stone, polyhedral sundial discovered in England, and thought to date from the Scottish renaissance, sold April 7, 2011 for £16,250 ($26,500) at Christie's South Kensington, London.
The sundial discovered in 1974, and thought to date from the Scottish renaissance, went on the auction block this April as part of Christie's Travel, Science and Natural History sale in London. The dial is made of stone and technically described as a polyhedral dial, with several independent sundials arranged on different facets of the stone. Pre-auction estimates placed a value somewhere between £7000 and £10,000 ($11,400 and $16,300) but sold for nearly three times the initial estimate.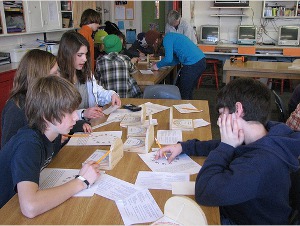 Avid dialist and former The Grammar School teacher and head of the Putney, VT school, Mac Oglesby guides 6th graders to plan and construct their own working sundials. Oglesby's students learned how to correctly position their dials to display the accurate time throughout the year.
Ask a person what is the earliest evidence of humans building structures to mark significant celestial events, and one offer "Stonehenge". But there may be a structure built thousands of years early according to some experts in Australia.
A site "down under", name Wurdi Youang, estimated to be older than 10,000 years, has a strange arrangement of stones with alignments toward solstices and equinox that has been scrutinized by several eminent Australian scientists. They conclude that the placement and alignment of the stones is not an accident and there is a perfect alignment with the setting sun on the mid-summer day. Understandably, the exact location of the site is a well-guarded secret, but it is known to be west of Melbourne approximately 80 kilometers.