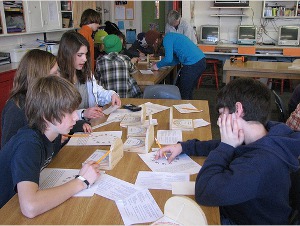 Avid dialist and former The Grammar School teacher and head of the Putney, VT school, Mac Oglesby guides 6th graders to plan and construct their own working sundials. Oglesby's students learned how to correctly position their dials to display the accurate time throughout the year.
Ask a person what is the earliest evidence of humans building structures to mark significant celestial events, and one offer "Stonehenge". But there may be a structure built thousands of years early according to some experts in Australia.
A site "down under", name Wurdi Youang, estimated to be older than 10,000 years, has a strange arrangement of stones with alignments toward solstices and equinox that has been scrutinized by several eminent Australian scientists. They conclude that the placement and alignment of the stones is not an accident and there is a perfect alignment with the setting sun on the mid-summer day. Understandably, the exact location of the site is a well-guarded secret, but it is known to be west of Melbourne approximately 80 kilometers.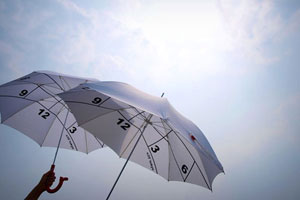 Primarily an industrial designer, Kota Nezu has designed a parasol for people who use their umbrellas for shade as well as staying dry.
With just a little bit of effort, Nezu's dial can be used to tell the approximate time of day and season of the year. The parasol comes equipped with a small compass to aid in lining things up. And even though a true sundial aficionado might point out that a proper dial has to be designed for a specific latitude, this handly umbrella is sure to be a conversation starter come rain or shine.
The Recreation Center Sun City (RCSC) Board of Directors has decided to repair the sundial monument at the corner of 103rd Avenue and Boswell Boulevard [in Sun City, Arizona].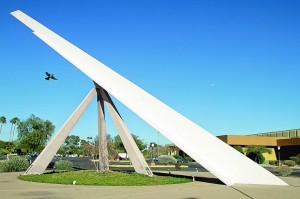 At this time, it is impossible to know an exact repair cost until further inspection can be made below the surface. We do know that the three steel supports at the foundation must be repaired to restore the steel supports' structural capacity to ensure further deterioration does not occur.