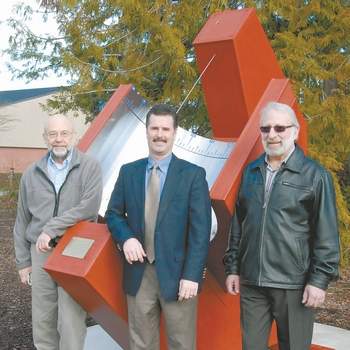 [all photos courtesy of Dennis Sanford,
3Peninsula College
Located in Port Angeles, Washington, Peninsula College recently dedicated a sundial measuring eight feet in height. The dial is notable for its unusual design: the basic construction is one of a polar dial, but also includes the sun's analemma so dial viewers can correct for the equation of time.
The dial was designed by the late Ben Davis and donated to the school in his honor by Honey Davis, his mother. Installed on campus near the Science and Technology Building, Dr. Tom Keegan perhaps expressed sentiments the best when he said, "Honey Davis' very generous gift to Peninsula College is deeply appreciated. It's fitting that it be placed by our Science and Technology Building so that Ben's amazing engineering skills serve as an inspiration to our students and encourage them to stop and look and study his sundial."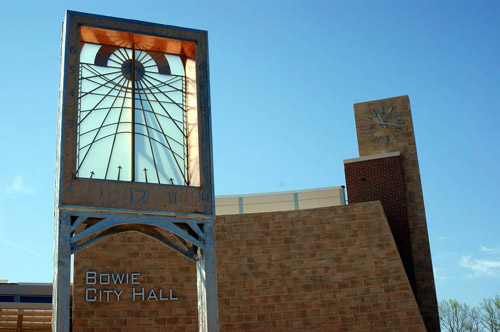 After more than a year of construction, the new Bowie City Hall and the Bowie Portal Dial off Evergreen Parkway and Emerald Avenue in Bowie, Maryland, will be dedicated on the 7th of May, 2011. The City Hall, Police Station along with two works of public art, an interior mobile and the 15-foot steel and bronze sundial will grace the City of Bowie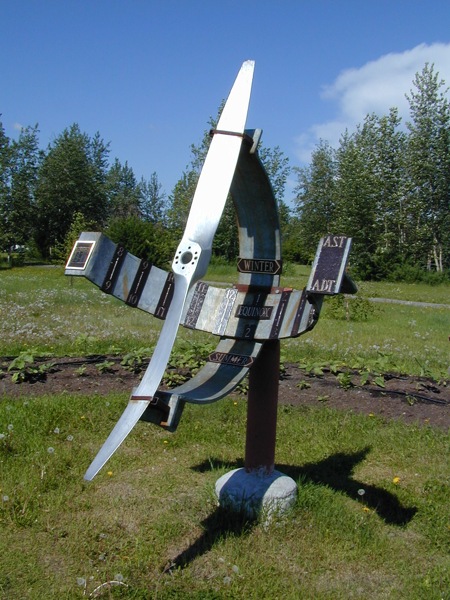 [photo courtesy of Martin Gutoski]
A nearly twenty year project to build a sundial near the Arctic Circle in Fairbanks, Alaska was finished this year by Martin Gutoski, a professional surveyor. Gutoski conceived the idea in 1992 when he reviewed a survey for the local library in Fairbanks' North Star Borough. Originally out of concern for safe-guarding survey corners, he got in contact with a local club whose members saw to the landscaping of the library and other public buildings. One thing lead to another and so began the odyssey that ended just recently.
One interesting aspect that will appeal to anyone who has ever built or contemplated building a sundial is that the dial location is only about one and one-half degrees south of the Arctic Circle. This is an aspect which Gutoski fully explored with models, first a small one and later a full-scale wooden one, before committing the design to its final form, which uses an airplane propeller for the gnomon.
Click on "Read More" below to see more photos of this sundial.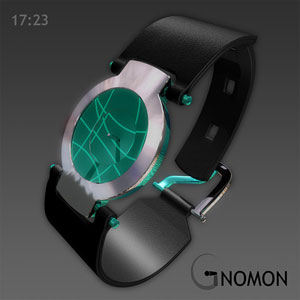 A novel wrist watch is being proposed which uses LED's instead of the sun to cast shadows. Proposed by an individual named Anders who lives in Sweden, the watch, which is still just a concept, is read much like a conventional analog watch. But instead of an hour hand and a minute hand, it uses LEDs which rotate around the outer ring of the dial and shine on a small gnomon at the center of the watch. One LED casts a shadow for telling hours and another for telling minutes. It is too soon to tell whether this concept watch will prove popular enough to manufacture.
A rare stone, polyhedral sundial discovered in England, and thought to date from the Scottish renaissance, sold April 7, 2011 for £16,250 ($26,500) at Christie's South Kensington, London.
The sundial discovered in 1974, and thought to date from the Scottish renaissance, went on the auction block this April as part of Christie's Travel, Science and Natural History sale in London. The dial is made of stone and technically described as a polyhedral dial, with several independent sundials arranged on different facets of the stone. Pre-auction estimates placed a value somewhere between £7000 and £10,000 ($11,400 and $16,300) but sold for nearly three times the initial estimate.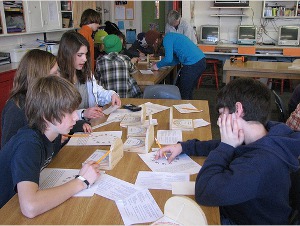 Avid dialist and former The Grammar School teacher and head of the Putney, VT school, Mac Oglesby guides 6th graders to plan and construct their own working sundials. Oglesby's students learned how to correctly position their dials to display the accurate time throughout the year.
Ask a person what is the earliest evidence of humans building structures to mark significant celestial events, and one offer "Stonehenge". But there may be a structure built thousands of years early according to some experts in Australia.
A site "down under", name Wurdi Youang, estimated to be older than 10,000 years, has a strange arrangement of stones with alignments toward solstices and equinox that has been scrutinized by several eminent Australian scientists. They conclude that the placement and alignment of the stones is not an accident and there is a perfect alignment with the setting sun on the mid-summer day. Understandably, the exact location of the site is a well-guarded secret, but it is known to be west of Melbourne approximately 80 kilometers.