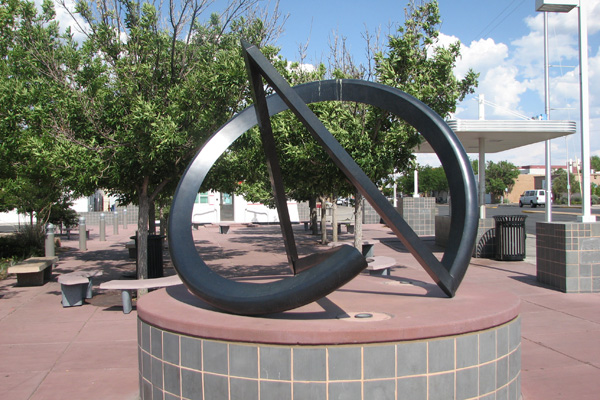 Thanks to Andy Robertson
Recent examination of our Sundial Registry revealed dials that no longer exist and have been replaced with something else that might resemble a sundial, but isn't. Consider the brief entry of Dial 56 that may have once existed in Albuquerque, New Mexico on 9 Mimosa Road:
"5.5' stile, hour lines marked by 1/2' wire rope on grade. Total area is about 1000 square feet. Analemmatic Dial" The description comes from a typed letter explaining that the dial was "built for research and marketing purposes".
Along with her husband, Mrs. Webster spent much of her life and fortune combing auction catalogs and antiquarian shops to create a collection of early scientific instruments so renowned, it is considered in the same company as the Museum of the History of Science at Oxford University and the National Maritime Museum in Greenwich, England, according to Bolt, Adler planetarium vice president for collections. The Websters are primarily responsible for the world-class collection of scientific instruments at the Adler.
http://www.suntimes.com/news/obituaries/5722751-418/marjorie-kelly-webster-95-collected-scientific-instruments.html
NASS is supporting the Adler to catalog their sundial collection enhanced over the years by Marjorie Kelly and her husband.
While using Google Maps, some artists living in the UK became unusual dialists when it occurred to them that the shadow cast by a skyscraper could be used as the gnomon of a really tall sundial.
The forty-seven story Beetham Tower in Manchester is 554 feet tall and dominates the city's skyline. So it occurred to Annie Harrison, Jude Macpherson and Jacqueline Wylie to use the shadow cast by this structure to chart the progress of the sun as part of an art project.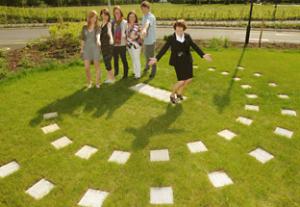 Mark and Clare Hoggart have three daughters, all of whom attended and graduated from the Joseph Rowntree school in the UK. Now, in appreciation, the Hoggarts have donated an analemmatic sundial to the school, saying, "It's just a thank-you for getting the girls through their education. They have all got on really well and have blossomed into lovely young ladies. We want to thank them for the effort they have shown them as individuals." The sundial has been installed outside the science block.
The Hoggarts, who own an ornamental gardenware company (http://www.fosstone.co.uk/), have already received orders from others who are interested in a similar installation. See the NASS website on dial construction for further plans to build an analemmatic sundial.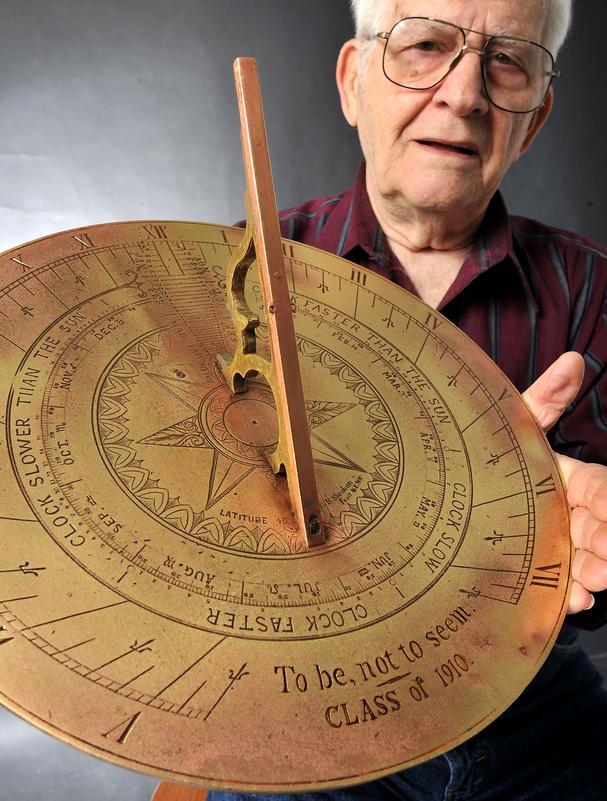 A sundial that was originally purchased by the 1910 class of Springfield (Ohio) High School and which adorned the original high school grounds for decades was recently refurbished and rededicated at the new Springfield High School.
Even though the dial adorned the school grounds for much of the 20th century, it eventually found its way into storage, where it remained until it was recently uncovered.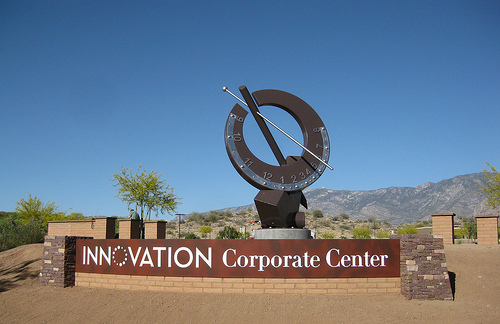 Its not often a sundial is also a monumental piece of sculpture weighing tons, but that is what developer Fred Steiniger installed this May at the Innovation Corporate Center in Oro Valley, Arizona. Long-time NASS member and professional dialist John Carmichael was intimately involved with the 3-year long project, which is still ongoing. Carmichael still has to install a noon-line sundial. Project completion is sometime this year before the planned dedication slated for noon at Autumnal Equinox.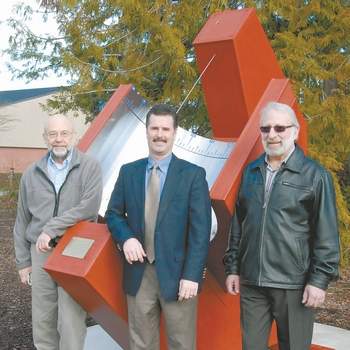 [all photos courtesy of Dennis Sanford,
3Peninsula College
Located in Port Angeles, Washington, Peninsula College recently dedicated a sundial measuring eight feet in height. The dial is notable for its unusual design: the basic construction is one of a polar dial, but also includes the sun's analemma so dial viewers can correct for the equation of time.
The dial was designed by the late Ben Davis and donated to the school in his honor by Honey Davis, his mother. Installed on campus near the Science and Technology Building, Dr. Tom Keegan perhaps expressed sentiments the best when he said, "Honey Davis' very generous gift to Peninsula College is deeply appreciated. It's fitting that it be placed by our Science and Technology Building so that Ben's amazing engineering skills serve as an inspiration to our students and encourage them to stop and look and study his sundial."