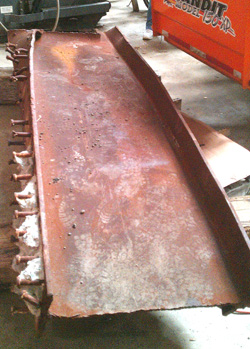 Todd Petty reported in the Hunterdon County Democrat that Tom Carpenter, a member of Fire Company 13 for forty-three years, presented plans to the city council for a 9/11 memorial in Veteran's Park located in Hampton Borough, New Jersey.
The park has memorials honoring local veterans from The Great War to those of the conflicts in Iraq and Afghanistan. During the twin tower collapse of 9/11 Tom Carpenter recalled, "Thank God we didn't have anyone from Hampton Borough, but Lebanon and Bethlehem did. We did respond to Ground Zero within hours …and spent two days there. Hampton does have a direct connection [to 9/11] and we're proud of it."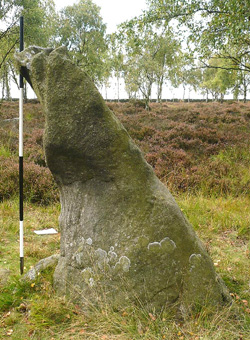 Gardom Edge Monolith
[photo courtesy of Dan Brown, Nottingham Trent University]
A two meter standing stone at Gardom's Edge may be an astronomically aligned monolith set up during the Neolithic period 2,500 – 1,500 BCE to recognize the summer solstice. According to Dan Brown, Andy Alder and Elizabeth Bemand of Nottingham Trent University, "Such an astronomically aligned stone could be described as a seasonal sundial … However it is not intending to mark local time during a day or measure exact dates during a year. Rather the seasonal shadow casting allows for the display of cosmological knowledge such as the 'death' and 'rebirth' of the Sun"…
The upward facing north slope of the stone remains in shadow until near the time of Summer solstice. Today the stone points south at an upward tilt of 58.3° +/- 2.9°, seemingly aimed at the highest rise of the summer sun, computed for the Gardom Edge latitude of 53.26° as 60.7° in Neolithic times.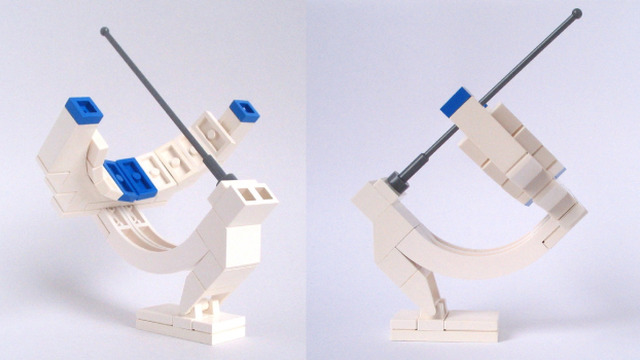 What can 62 LEGO bricks build? An equatorial sundial. A recent dial building project demonstrates a very nice looking sundial dial built from regular LEGO elements. The design is a classic equatorial sundial using a central north-pointing rod gnomon with shadow cast only hourly segments tilted at 15 degree increments. The base swivels such that it can be adjusted for any latitude.
The building blocks use 1xN plates placed side by side on the underside of a 1x4x5 arch, creating the hourly progression of 15 degree tilted tiles. In the design shown, two blue plates in the center bracket the noon mark. Outer blue plates indicate 6am and 6pm. All you need to do is paste on the hour numerals.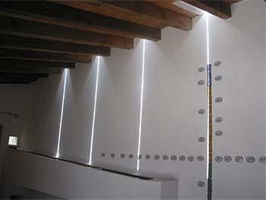 [photo courtesy of Ruben Nohuitol]
Ruben Nohuitol of Queretaro, Mexico has a unique solarium or "cosmic room" to observe the rays of the sun throughout the year. He has patiently constructed a wonderful time-lapse video following the sun every day at 12:45 pm. His construction has a vertical meridiana beam of light descending and then ascending the wall as time passes throughout the year. A second sky-light gnomon creates a classical analemma on the floor.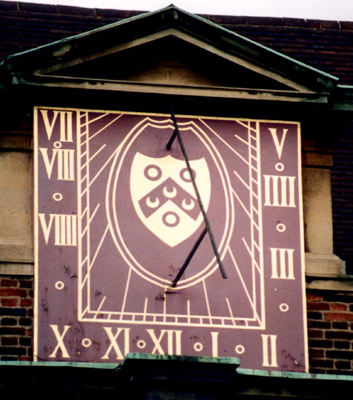 [photo courtesy of John Foad]
Many have been following the Prime time Emmy Award winning series Downton Abbey on PBS. This British World War I period drama was filmed on location at Highclere Castle in Hampshire, which represents the fictional Downton Abbey. Many outdoor scenes were filmed in the village of Bampton, Oxfordshire. (See http://en.wikipedia.org/wiki/Downton_Abbey )
As you follow the lives of aristocrats and servants in this acclaimed series, keep an eye out for sundials. Attached is a photo noticed by NASS member John Foad. Want to search for yourself? Look for the dial in front of the hospital. The full episodes of series #1 are available at PBS.org and the new series #2 is just starting.
And while you're at it, look for sundials in Foyle's War, Midsomer Murders, and Father Brown. You'll be surprise how many you find.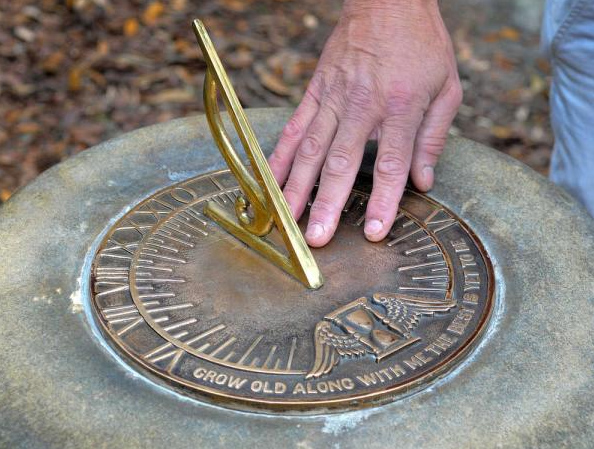 [photo credit: Steve Bisson -
Savannah Morning News ]
Lesley Conn reports in the Savannah Morning News the restoration of its vandalized sundial. This is no college prank, but a malicious and repetitive attack on the Louis B. Toomer sundial in Chatham Square in the historic district of Savannah, Georgia. Conn reports that "City officials are adding new elements to the repair process – a public plea for help and a reminder to the monument marauder that destruction of public property is a felony. They made their case Tuesday after sealing a new sundial to the stone base."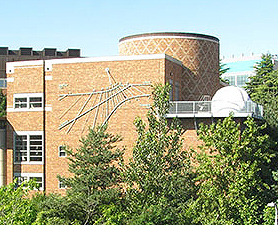 Want to watch a sundial in action? Professor Woodruff Sullivan and Ian Smith at the University of Washington in Seattle have just launched an active webcam of the University's large vertical declining sundial on the side of the Physics and Astronomy building. The webcam image is updated once per minute day and night. "we know that some of you will want to stare at it for hours on end (or at least bookmark it…."
Their website has many features including the first two time-lapse movies of the giant sundial showing the all-day shadow on the summer solstice and on the autumn equinox. More time lapse videos will be presented during the months that come. In the near future they will improve the present camera with higher-resolution and greater reliability.
A flurry of sundial webcams existed in 2004-05 when the EarthDial Project, the invention of Bill Nye and Woody Sullivan, was run under the auspices of The Planetary Society. The Project, with a motto Two Worlds, One Sun was run in conjunction with the MarsDial Project, which involved the Mars Exploration Rovers Spirit and Opportunity, each of which landed on Mars in 2004 with a small calibration target turned into a Mars sundial on its deck. People around the world were urged to build sundials of a standard design and display them to the world using a webcam. Click Here to See Time Lapse Movies of Some of These Dials. A new Mars sundial will arrive red at the red planet next August onboard Curiosity.
Take a look at the new webcam at http://sunny.astro.washington.edu