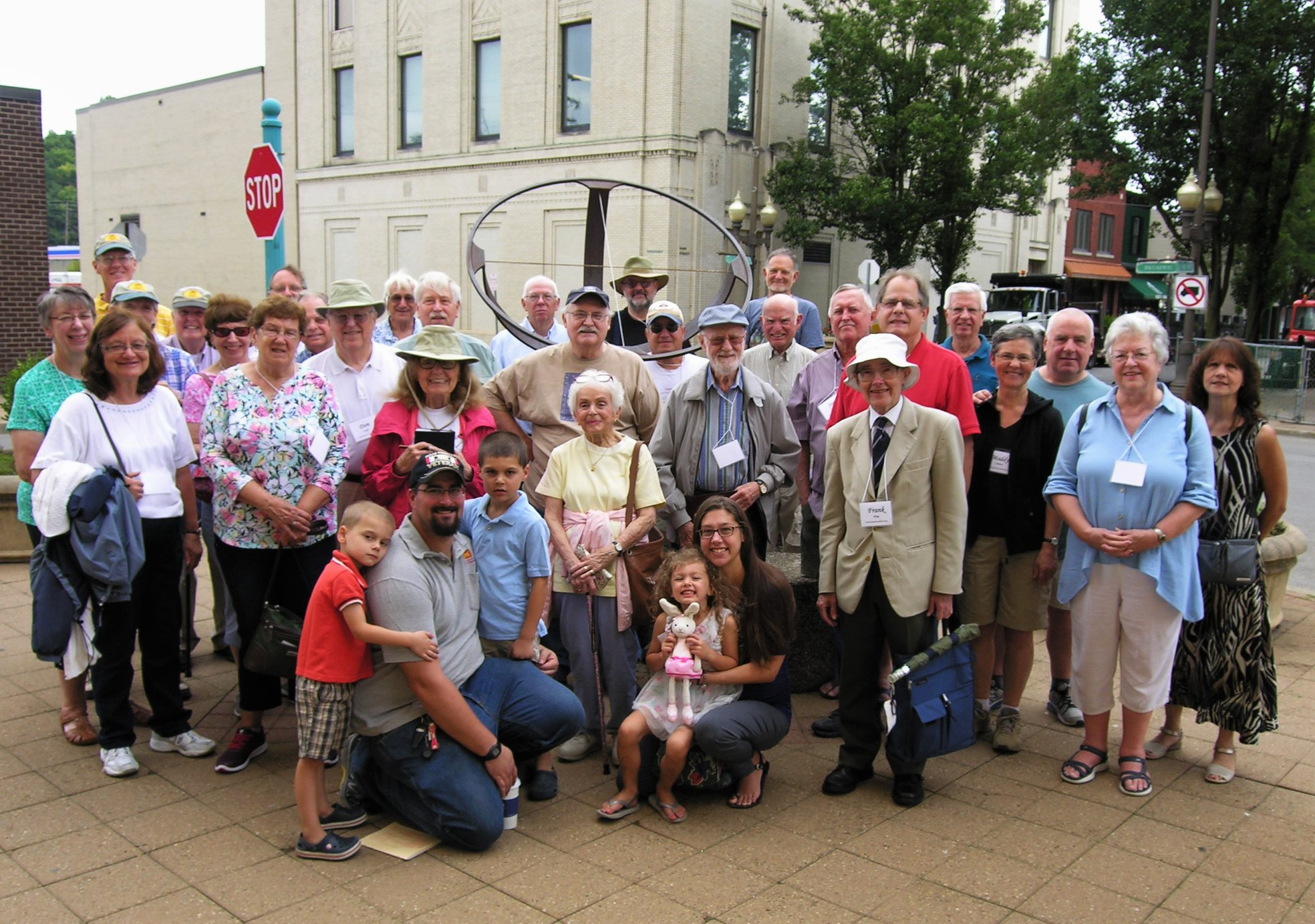 The North American Sundial Society held their annual sundial conference in Pittsburgh, a four day affair for gnomonists to convene and share their enthusiasm for all things sundials. This conference was special as the NASS celebrated the society's 25th anniversary. Starting in 1993 with only a handful of dialing enthusiasts, the society has grown to over 250 members extending from North America to all parts of the globe. For this conference NASS members convened from around the world representing countries of Canada, the United Kingdom, Brazil and Australia. Scheduled to attend but intervened by last minute issues preventing their attendance were dialists from Mexico and Italy. All came with one objective - to share their enthusiasm for sundials.
On Thursday evening Aug 16th the dialists gathered at the Garden Hilton in downtown Pittsburgh to participate in drawings for assorted door prizes including sundials and books on dialing. On Friday all boarded a charter bus to view the sundials of Pittsburgh, taking a tour that included a large steel equatorial designed and built by Anthony Vitale, a multi-faced dial at Old Economy Village dating to 1825, and a dial commemorating the battle at Bushy Run in 1793 that was found at the site of the Fort Pitt Block House during its 1894 restoration by the Pittsburgh Chapter of the Daughters of the American Revolution who still own and preserve the structure and the sundial. The tour included the dial at Frick Fine Arts Museum (near the geenhouse), the Riverfron Park Sewickley analemmatic (human) sundial, and the large octagonal horizontal sundial at Homewood Cemetery.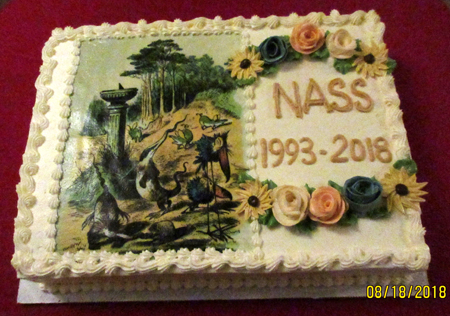 On Saturday and Sunday attendees listed to presentations on ring dials (with a diverson into the history of solving cubic equations), helical sundials (and 3D printing), viking sunstones (with a description of the birefracting material calcite), lunar sundials (Sciathericum Seleniacum), van Schooten and Dialing Scales (published in 1657), Time for Rita's (a vertical declining dial designed for an ice cream store in Elizabethtown, PA), and zenith days below the Tropic of Capricorn (and a year-long photograph of the analemma over the El Cerrito pyramid in Querétaro, Mexico),and much, much more. On Saturday evening the Sawyer Dialing Prize was awarded this year to Gianpiero Casalegno from Italy for his achievements in harnessing modern ditital technology to the benefit of tradional dialists around the world. The prize includes an elegant Spectra Sundial by Artisan Industrials (Jim Tallman) and a cash award. Gian has chosen to given the cash award as a donation to the Bellingham Mural Project lead by Sasch Stephens. The dial will be dedicated on the coming equinox, Sept. 22.

NASS members enjoyed this year's conference and are now planning for next year's convening, tentatively to be held in Denver, Colorado.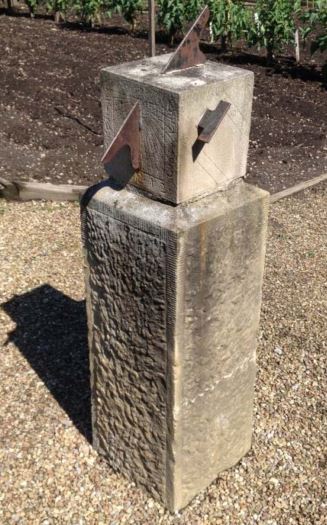 NASS will hold this year's annual conference Thrs 16 Aug - Sun 19 Aug in Pittsburgh, Pennsylvania. The conference will be held near the famed University of Pittsburgh campus with its Cathedral of Learning. The conference will be held at the Hilton Garden Inn, Pittsburgh University Place 3454 Forbes Avenue in Pittsburgh.
NASS has a discount rate for the conference at $119/night (plus tax). This rate will also apply 4 days before and 4 days after the conference, if rooms are available. You can call the Hotel at 412-683-2040 for reservations or visit the Hilton webpage specifically set up for NASS reservations at: https://bit.ly/2ERRW0I The hotel is about 20 miles from Pittsburgh International Airport with SuperShuttle transportation to the hotel at https://www.supershuttle.com/locations/pittsburghpit/ Use the GUENB to receive a discount round-trip ticket.
Please let us know at This email address is being protected from spambots. You need JavaScript enabled to view it. when you've made a reservation at the Hilton so that we can adjust the number of allocated rooms if appropriate. We want to be sure that we have room for everyone during this peak season. Book early.
If you would like to present a talk at the NASS conference or do an informal 5-10 presentation on your favorite dialing project, please contact This email address is being protected from spambots. You need JavaScript enabled to view it. If you have sundials, photos, books, etc. that you would like to display, please let us know in order to arrange for table space. We typically allocate 1/2 table per display. Plan to bring your projects to show others.
NASS has two registration types: Full and Partial. The Partial Option is only for Thursday Evening Reception, Saturday Conference Dinner, and the Friday Tour of Pittsburgh Sundials. The Partial Option does not include admission to the general sessions. Use the attached form (see below).
Conference Registration
Until June 15
June 16 - July 15
Full
Partial
Full
Partial
w/Filet Mignon Dinner
$302
$192
$327
$217
w/Chicken Marsala Dinner
$290
$180
$315
$205
w/Fire Roasted Tortellini Dinner
$285
$175
$310
$200
You may send a US dollar check payable to NASS and drawn on a US bank for the registration fee. Send both form and funds to Fred Sawyer, 27 Ninas Way, Manchester, CT 06040, USA. Or email the registration information and send US dollars via PayPal This email address is being protected from spambots. You need JavaScript enabled to view it. If you wish to use pounds sterling, please contact This email address is being protected from spambots. You need JavaScript enabled to view it. for instructions.
Portland Maine WCSH Channel 6 presents local and national news and the usual sports, weather and traffic. But on a recent 207 broadcast, they reported an invasion ... an invasion of sundialists coming to Portland, Maine for their annual conference and their search for a dial made over a century ago by Albert Crehore that might still be somewhere in Portland.
Members of the North American Sundial Society (NASS) take the art and science of sundials very seriously. Watch the video and consider joining NASS for even more sundial adventures. Visit Portland Channel 6 News:
> >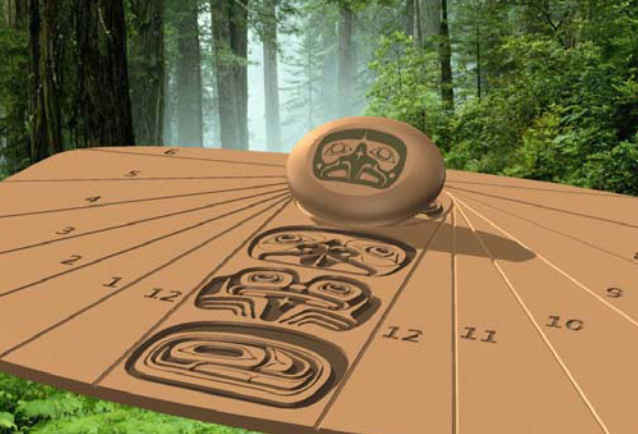 The 2015 NASS Sundial Conference was held in Victoria, B.C. Roger Bailey organized the conference and provided a sundial tour in Victoria, stopping at the BC Legislature Rose Garden dial, the St. Ann's Academy dial, Christ Church Cathedral vertical dial, the BC Government House totem sundial, and more, including a visit out to the Dominion Astrophysical Observatory to see the 1.8 meter telescope.
Steve Luecking discussed spherical and elliptical gnomons where tangent points are dropped to a circle circumscribing the ellipse and hour lines are then drawn as tangents from the points on the circle. Steve used this technique to design a sundial using an elliptical gnomon with symbolic native art for Victoria. (Illustration at right)
Len Berggren described the design and building of a sundial that can show both solar and mean time, done with a $1000 grant from NASS. Presentations included John Schilke discussing the Heliotrope and Heliograph. Barry Duell outlined the history of a sundial at Willamette University donated by the Class of 1916. The dial was dedicated to Prof. Matthews and engraved with his motto of "Sagacity, Audacity, Holiness, Chairty."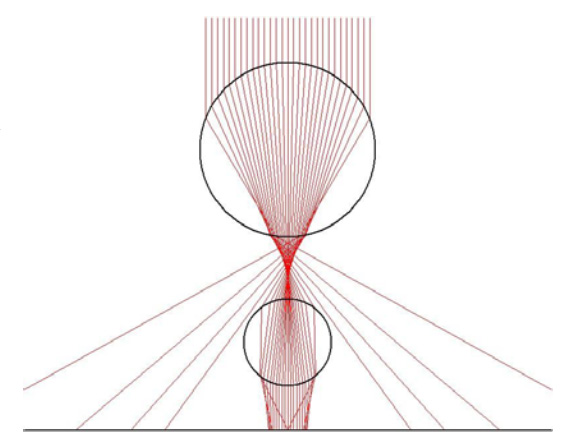 Prof. Woody Sullivan described 3 new dials. The first two, an Oculus table and a Solar Hour Benches are at the San Francisco Exploratorium. The third dial at the Very Large Array Radio Telescope in New Mexico is the world's first and only sundial made from one of the original radio telescopes. It was constructed in memory of Prof. Ron Bracewell of Stanford Univ. a pioneer in radio astronomy.
Jackie Jones, Doug Bateman, Sasch Stephens, Fred Sawyer, and Mark Montgomery presented a wide range of topics from reflecting dials, elliptical dials and moon dials, to ancient Egyptian shadow clocks. Bob Kellogg, unable to attend, sent along a video on a new digital gnomon sundial, while Frank King and Steve Luecking discussed optical geometries and illusions. (Read more in the attached dowloadable PDF)
This year's Sawyer Dialing Prize was awarded to Ing. Gianni Ferrari "for his long career educating the dialing community about the nearly forgotten heritage of ancient Islamic gnomonics and the wide variety of modern analytically developed sundial." (Read more about the Sawyer Dialing Prize)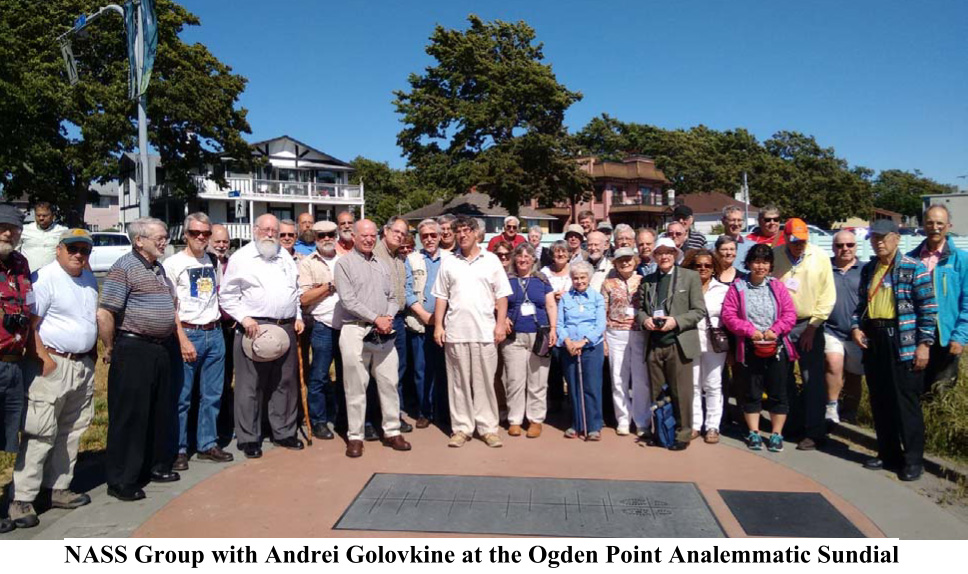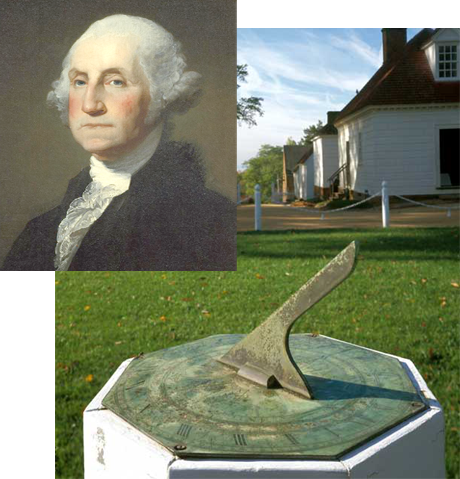 Founding Fathers - Washington Dial at Mt. Vernon, VA
In August, 2014, the North American Sundial Society had a terrific conference in Indianapolis, Indiana, discussing sundial topics from the sundials of Our Founding Fathers where Fred Sawyer talked about the sundials and stories of George Washington, Benjamin Franklin, and Thomas Jefferson.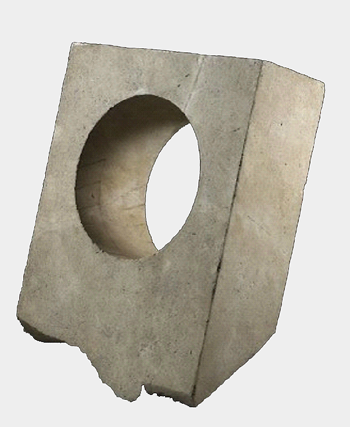 Greek Dial from Ai Khanum
Another highlight was Jack Aubert's talk on the mysteries of an ancient Greek sundial found at Ai Khanum in the northern of Afghanistan and computing the hour lines. Who built this dial more than 2000 years ago and what kind of mathematics did they use?
Peggy Gunnerson described the evolution of a modern sundial parallelpipeds sculpture, creating an artistic and unusal east-west sundial. And Stephen Lueking presented a series of modern sundial designs for DePaul University. These were just some of the presentations. Subscribe to the digital edition of The Compendium from NASS and receive them all. The annual Sawyer Dialing Prize went to Robert Kellogg for NASS outreach and the invention of a digital sundial. Read more about the presentations and the tour of Indianapolis by downloading the attachment below.
| | |
| --- | --- |
| Peggy Gunnerson Parallelpiped Dial | Stephen Luecking - Dial Design for DePaul University |
Hosting 46 people, the conference was coordinated by George and Betsy Wilson and Mark an Phyllis Montgomery. During the Friday Sundial tour NASS was welcomed by Eagle Elementary School, the senior high ability class and their teachers. All gathered in the school's courtyard to show a large horizontal sundial, dedicated as a memorial to a former teacher, Linda Eads.