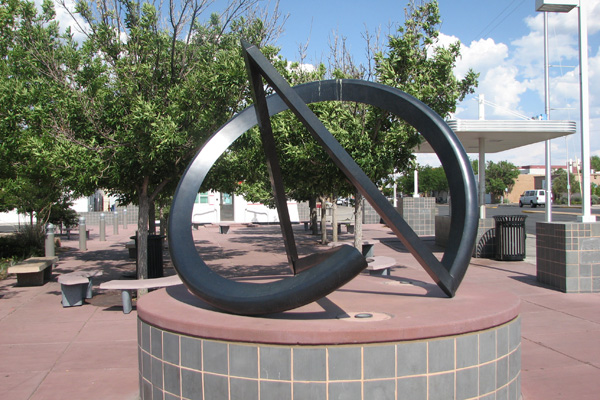 Thanks to Andy Robertson
Recent examination of our Sundial Registry revealed dials that no longer exist and have been replaced with something else that might resemble a sundial, but isn't. Consider the brief entry of Dial 56 that may have once existed in Albuquerque, New Mexico on 9 Mimosa Road:
"5.5' stile, hour lines marked by 1/2' wire rope on grade. Total area is about 1000 square feet. Analemmatic Dial" The description comes from a typed letter explaining that the dial was "built for research and marketing purposes".
While using Google Maps, some artists living in the UK became unusual dialists when it occurred to them that the shadow cast by a skyscraper could be used as the gnomon of a really tall sundial.
The forty-seven story Beetham Tower in Manchester is 554 feet tall and dominates the city's skyline. So it occurred to Annie Harrison, Jude Macpherson and Jacqueline Wylie to use the shadow cast by this structure to chart the progress of the sun as part of an art project.