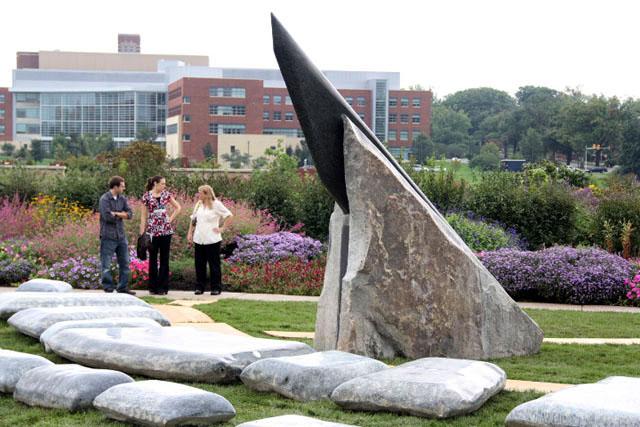 On September 22, 2011 Penn State University dedicated a massive granite sundial donated by trustee and alumnus Joel Myers. Designed and sculptured by artist Mark Mennin, it is installed in the university's arboretum. At the dedication Myers said, "We wanted to create something unique...The sundial is to be a destination". Though still lacking a few final touches, such as a bit of polishing, the large granite dial is functional and tells time to the nearest minute.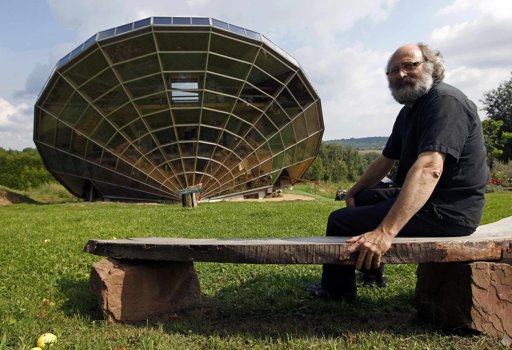 [photo credit: Vincent Kessler]
A three dimensional sundial house? You can find it at 10 rue du Diebach, Cosswiller near Strasbourg in the countryside of Alsace in France. Eric Wasser has created the "Heliodome", a tilted circular building aligned with the earth's polar axis that is a far cry from the old Buckminister Fuller "Bucky Domes".
The house has a glassed southern exposure to allow sunlight during the winter, but from the equatorial belt forward the house has a nearly conventional roof providing shade during the summer. As Wasser explains on his website, "The passive solar house is an architectural volume, a Heliodome, determined by the diurnal and annual trajectory of the sun." Read more about the details at http://www.heliodome.com/equipe.html.