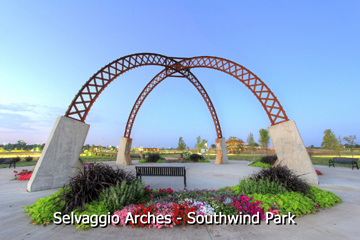 Southwind Park in Springfield Illinois is a National Model Park. It got its start in October 2004 when trustees accepted the donation of 80 acres of land just off South Second Street. Their website states "Our unique state-of-the-art park serves as a national model by proving a new dimensions of inclusion for all people." A park without boundaries that accomodates people in wheelchairs and visitors with special needs.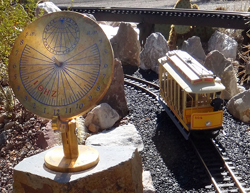 [photo courtesy of John Carmichael]
In 2002, the North American Sundial Society recognized John Carmichael with the Sawyer Dialing Prize as an eminent artisan who creates a wide variety of sundials, principally in stone and glass. In recognition, John received a small brass equatorial sundial made by the renowned British artisan Tony Moss. But for nearly a decade the sundial remained on John's workbench never seeing the full light of day.
Recently Mr. Carmichael completed a 24:1-scale model railroad in his back yard (http://www.flickr.com/photos/jlcarmichael/sets/72157632430552837/with/8348506244/). Now his Sawyer Dialing Prize sundial finally sits in the Arizona sun as a miniature "Monumental Sundial" at the Trolley Station. At the 24:1 scale, the 3-inch dial assumes the proportion of a large 6-foot equatorial sundial. You can see John Carmichael's dials at http://www.sundialsculptures.com/.