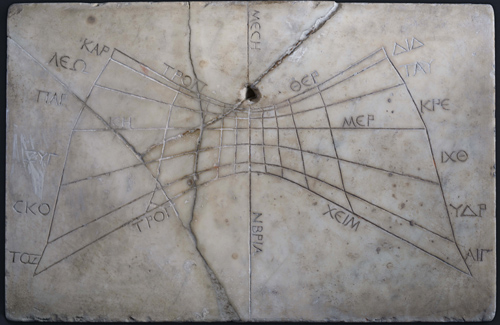 Horizontal Gnomonic Dial (Inv. 3075)
Museo Archeologico Nazionale di Napoli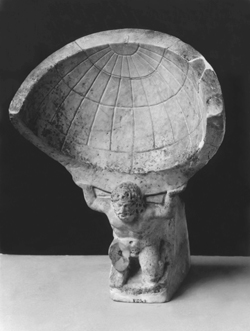 Statuette of Atlas Bearing a Hemispherical Sundial
Sir John Soane's Museum, London
The Institute for the Study of the Ancient World (15 East 84th Street in New York) is hosting an exhibition "Time and Cosmos in Greco-Roman Antiquity" open to the public from now until April 23, 2017. From their on-line invitation, "This exhibition aims to explore the ways that time was organized and kept track of in the Greco-Roman world, and how it was conceived in relation to the Cosmos. The objects displayed include artifacts illustrating the technology of ancient time-reckoning and the perception, visualization, and social role of time and cosmos..." This is exemplified by a wonderful horizontal gnomonic sundial using a vertical gnomon shown at left. It was found at Pompeii around 1865 and became part of the Museo Archeologico Nazionale di Napoli in 1867. "Despite the fact that it was found in Italy, the inscriptions on it are in Greek, perfhaps reflecting the status of Greek as the langauage of science in antiquity. The summer and winter tropics (solstices), equinox, and seasons are reasonably declined. The hour lines however reflect temporal hours rather than the hour angles we would draw todayl.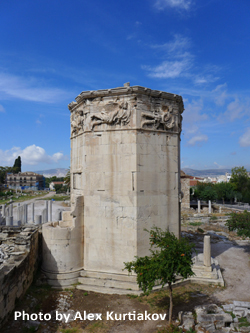 In the old Roman Agora on the slope of Athen's ancient Acropolis hill is the Tower ofWinds. Today, completing two years of restoration, the interior was re-opened to the public this summer in August, 2016. The Tower had been closed for the last 200 years. The story of the Tower starts in the first century, BCE, probably during the reign of Julius Caesar.
The Tower was designed by Andronikos Kyrrhestos (Andronicus of Cyrrhus), an astronomer and maker of celestial instruments. Andronicus constructed a white marble sundial for the sanctuary of Poseidon and Amphitrite on the island of Tinos. The sundial becamse so famous that Andronicus was invited to Athens where he erected the magnificent 14 meter Tower called the Aerides (the Winds) . It was built on the eastern side of the Roman Agora in Athens and meant to have utilitarian value. "No one knows who funded its lavish construction - the octagonal monument is made almost entirely of Pentelic marble, the same used for the Parthenon and rarely found in buildings other than temples," said Stelios Daskalakis, head conservator.

Atop of the octogon tower now rests the fully-preserved roof made of 24 marble slabs, resting on a Corinthian capital. Once a bronze statue of Trition, the god of the sea, was set on the roof to turn in the wind as a weather indicator. By night, water flowed through a hydro-mechanical system designed by Andronicus from a cylinder inside the Tower. The water level lead to an exterior indicator creating a night time clock or clepsydra. During the day the Tower was a public time teller with eight sundials.