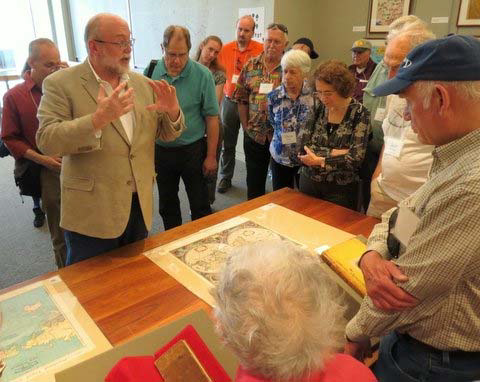 Portland Maine WCSH Channel 6 presents local and national news and the usual sports, weather and traffic. But on a recent 207 broadcast, they reported an invasion ... an invasion of sundialists coming to Portland, Maine for their annual conference and their search for a dial made over a century ago by Albert Crehore that might still be somewhere in Portland. The dialists went to all corners - the Baxter Sundial, the many dials at Bowdoin College, the Falmouth Library Armillary, and the Osher Map Library.
During the international conference with attendees from US, Canada, United Kingdom, and Brazil papers were presented and topics discussed from astrolabes to a 3D printed digital sundial. Members of the North American Sundial Society (NASS) take the art and science of sundials very seriously and will convene next year in Saint Louis to watch the total solar eclipse.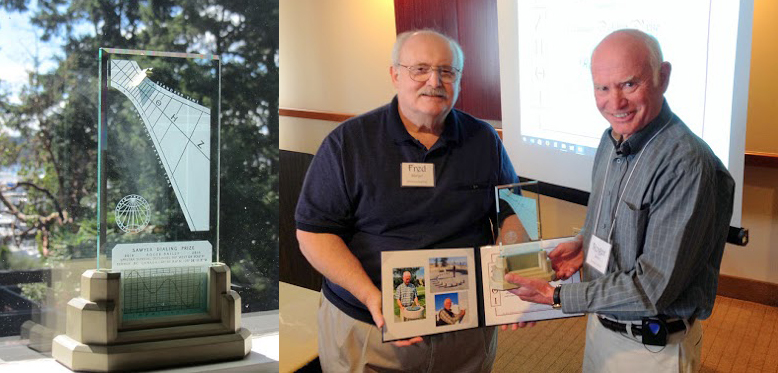 This year's Sawyer Dialing prize was awarded to Roger Bailey at the NASS annual conference in Portland, ME. The certificate recognizes Roger for "consistently showing the dialing community that all you need to know in life can be learned from studying sundials, and for using that study to advance the theory and practice of dialing."
Fred Sawyer presented Roger with an award certificate, the traditional cash prize of $200 and a custom made Spectra Sundial by Jim Tallman of Artisan Industrials.
On receiving the award Roger's presentation was "That is a Good Question". Here he pointed out that most of his achievements in the art and science of dialing was sparked by answering good questions, questions like the shadow lengths or the time and direction of sunrise sunset on analemmatic sundials or time systems on Islamic sundials. The theme was "Ask and you shall receive". He remains open to good questions.
http://www.artisanindustrials.com/world-of-sundials/spectra-sundial-sidney-british-columbia-canada.html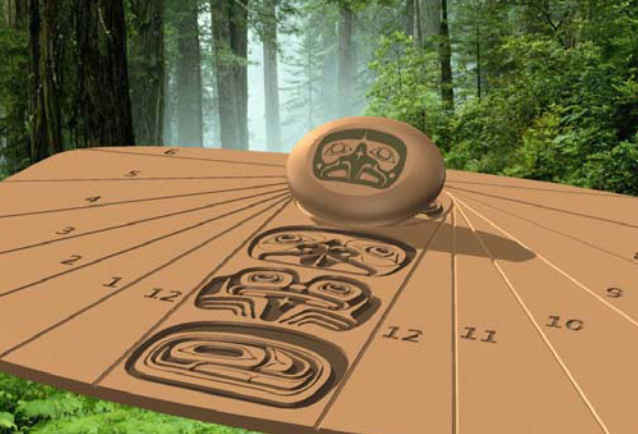 The 2015 NASS Sundial Conference was held in Victoria, B.C. Roger Bailey organized the conference and provided a sundial tour in Victoria, stopping at the BC Legislature Rose Garden dial, the St. Ann's Academy dial, Christ Church Cathedral vertical dial, the BC Government House totem sundial, and more, including a visit out to the Dominion Astrophysical Observatory to see the 1.8 meter telescope.
Steve Luecking discussed spherical and elliptical gnomons where tangent points are dropped to a circle circumscribing the ellipse and hour lines are then drawn as tangents from the points on the circle. Steve used this technique to design a sundial using an elliptical gnomon with symbolic native art for Victoria. (Illustration at right)
Len Berggren described the design and building of a sundial that can show both solar and mean time, done with a $1000 grant from NASS. Presentations included John Schilke discussing the Heliotrope and Heliograph. Barry Duell outlined the history of a sundial at Willamette University donated by the Class of 1916. The dial was dedicated to Prof. Matthews and engraved with his motto of "Sagacity, Audacity, Holiness, Chairty."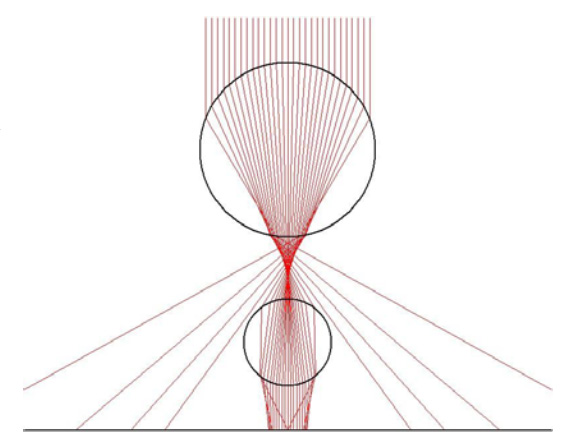 Prof. Woody Sullivan described 3 new dials. The first two, an Oculus table and a Solar Hour Benches are at the San Francisco Exploratorium. The third dial at the Very Large Array Radio Telescope in New Mexico is the world's first and only sundial made from one of the original radio telescopes. It was constructed in memory of Prof. Ron Bracewell of Stanford Univ. a pioneer in radio astronomy.
Jackie Jones, Doug Bateman, Sasch Stephens, Fred Sawyer, and Mark Montgomery presented a wide range of topics from reflecting dials, elliptical dials and moon dials, to ancient Egyptian shadow clocks. Bob Kellogg, unable to attend, sent along a video on a new digital gnomon sundial, while Frank King and Steve Luecking discussed optical geometries and illusions. (Read more in the attached dowloadable PDF)
This year's Sawyer Dialing Prize was awarded to Ing. Gianni Ferrari "for his long career educating the dialing community about the nearly forgotten heritage of ancient Islamic gnomonics and the wide variety of modern analytically developed sundial." (Read more about the Sawyer Dialing Prize)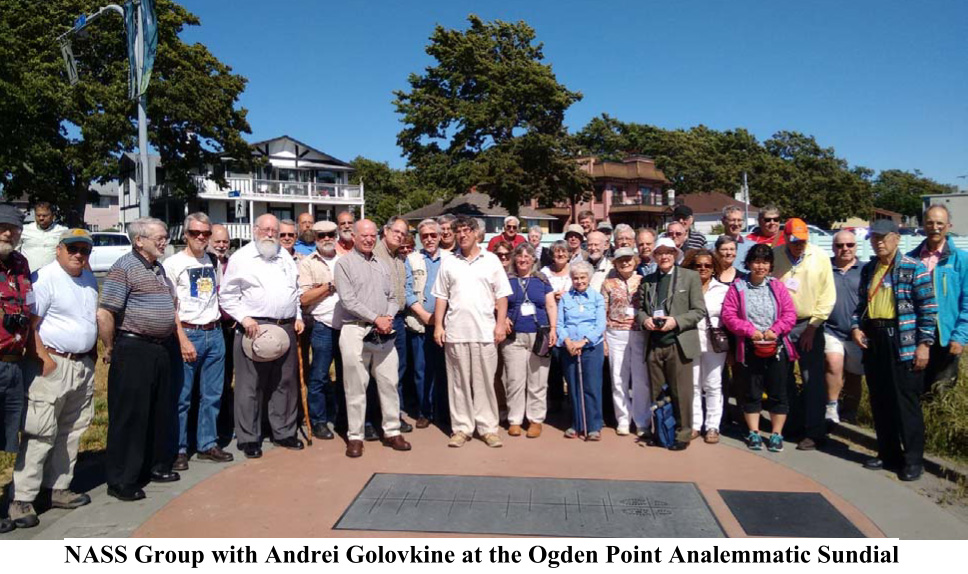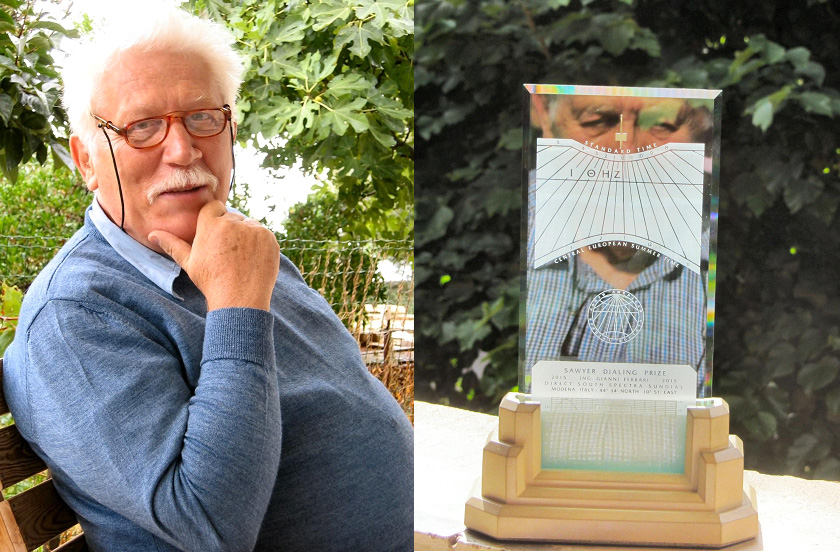 Ing. Gianni Ferrari was awarded the 2015 Sawyer Dialing prize, with his certificate acknowledging: "for his long career educating the dialing community about the nearly forgotten heritage of ancient Islamic gnomonics and the wide variety of modern analytically developed sundials." Since 2000 Gianni has contributed nearly 30 articles to the NASS Compendium, enriching dialists' knowledge around the world. Recently he published the books Le Meridiane Dell'Antico Islam (Sundials of Ancient Islam) and Formule e metodi per lo studio degli orologi solari piani - Caratteristiche, descrizione e calcolo degli orologi solar paini comuni e pop conosciuti (Formulae and methods for the study of flat sundials - with characteristics, descriptions and calculations of common and less known sundials). Gianni's acceptance presentation for the conference was on "Forgotten Dialing Formulas" using versines. The versine trigonometric function was engraved on ancient quadrants, forming the small arcs "versus" and "rectus" that were used for solving the Astronomical Triangle to derive solar azimuth and hour angle time. Those that have learned to navigate with a sextant may indeed remember using half versines or "haversines" tables. His presentation is in the September 2015 issue of the NASS The Compendium. Gianni was not able to attend the NASS Conference in Victoria, but sent greetings from Italy. He asked that NASS donate the $200 prize money to benefit an appropriate dialing cause. Like other dialing prize recipients, he received a Spectra Sundial by Jim Tallman of Artisan Industrials. Gianni's dial was designed for his home in Modena, Italy at 44o 34' N 10o 51' E.
http://www.artisanindustrials.com/world-of-sundials/spectra-sundial-modena-italy.html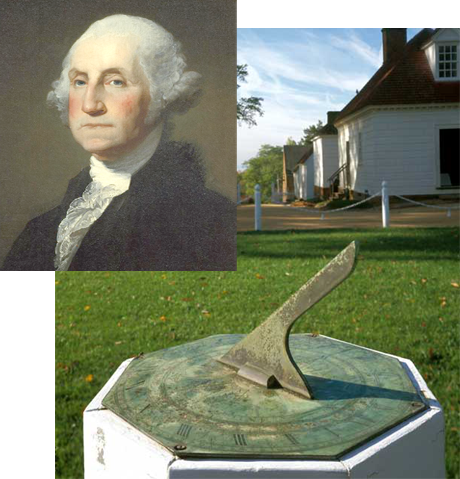 Founding Fathers - Washington Dial at Mt. Vernon, VA
In August, 2014, the North American Sundial Society had a terrific conference in Indianapolis, Indiana, discussing sundial topics from the sundials of Our Founding Fathers where Fred Sawyer talked about the sundials and stories of George Washington, Benjamin Franklin, and Thomas Jefferson.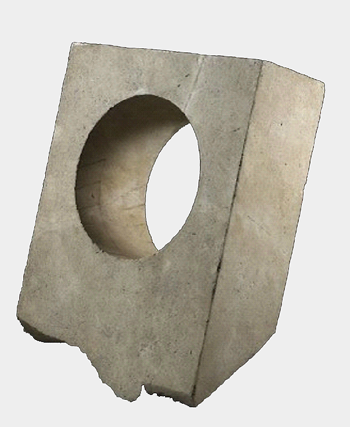 Greek Dial from Ai Khanum
Another highlight was Jack Aubert's talk on the mysteries of an ancient Greek sundial found at Ai Khanum in the northern of Afghanistan and computing the hour lines. Who built this dial more than 2000 years ago and what kind of mathematics did they use?
Peggy Gunnerson described the evolution of a modern sundial parallelpipeds sculpture, creating an artistic and unusal east-west sundial. And Stephen Lueking presented a series of modern sundial designs for DePaul University. These were just some of the presentations. Subscribe to the digital edition of The Compendium from NASS and receive them all. The annual Sawyer Dialing Prize went to Robert Kellogg for NASS outreach and the invention of a digital sundial. Read more about the presentations and the tour of Indianapolis by downloading the attachment below.
| | |
| --- | --- |
| Peggy Gunnerson Parallelpiped Dial | Stephen Luecking - Dial Design for DePaul University |
Hosting 46 people, the conference was coordinated by George and Betsy Wilson and Mark an Phyllis Montgomery. During the Friday Sundial tour NASS was welcomed by Eagle Elementary School, the senior high ability class and their teachers. All gathered in the school's courtyard to show a large horizontal sundial, dedicated as a memorial to a former teacher, Linda Eads.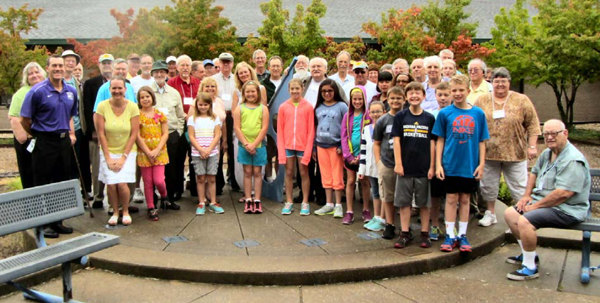 This Sundials for Starters appeared in The Comendium in June 2010
by Robert Kellogg, Ph.D.

Some years ago I had the thrill of reading the Tiberius manuscript1, which in Old English presented a horologium, a set of shadow lengths, from somewhere in England. The shadow lengths were given throughout the year, such as on Christ's Mass day where "the shadow at [mid] morning and nine [halfway through the afternoon] is twenty [less] a heel foot and at midday four and twenty."
1 MS Cotton Tiberius A, iii – folio 179 o/v British Museum, Manuscript Library
This Sundials for Starters appeared in The Compendium in December 2013
Robert L. Kellogg, Ph.D.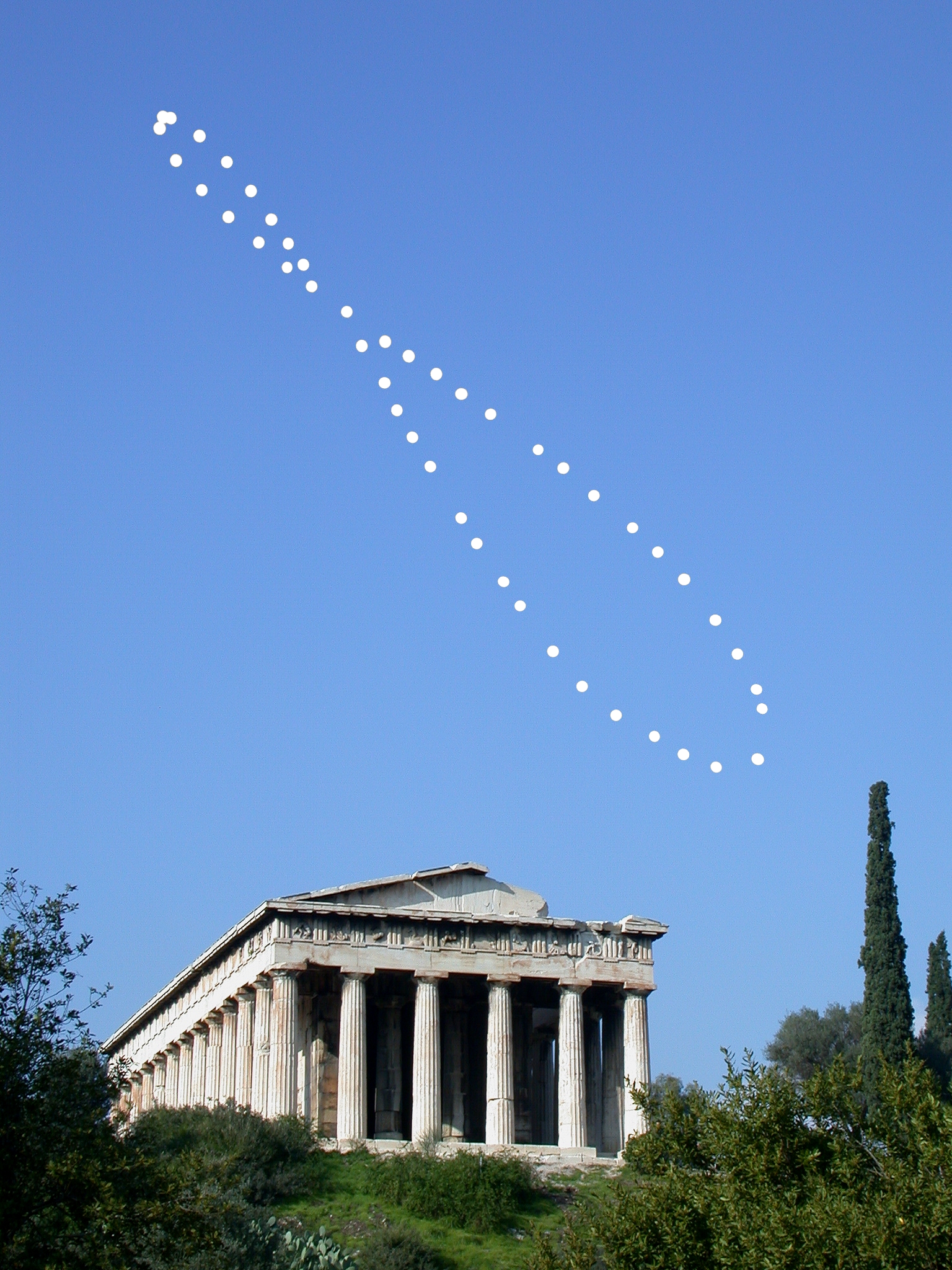 Fig. 1 Analemma over the Acropolis photographed during the year by Ayiomamitis
As the shadows grow longer and we head for the winter solstice my mind turns again to the analemma, a concept invented by Grandjean de Fouchy in 1740 to describe the apparent irregular motion of the sun. Strictly speaking, this is the difference between the right ascension of the true sun minus the right ascension of the mean sun. While this is mathematically important to astronomers, it is esthetically pleasing that the apparent sun will describe a "figure 8" through annual motion in the sky. This "figure 8" or analemma is visible only when the sun's position is compared to a "mean time" using a precise clock. The analemma (or the sun's apparent East-West motion called the Equation of Time) allows us to answer the question "Will the time shown on my sundial be fast or slow compared with my watch?"
Subcategories
Sundials for Starters

Article Count:

6

Conferences

Article Count:

23

Sawyer Dialing Prize

Fred Sawyer, in cooperation with the North American Sundial Society, established a continuing yearly award, the Sawyer Dialing Prize to be presented by NASS to an individual for accomplishments in or contributions to dialing and the dialing community.

Article Count:

20

Terwilliger Sundials

In these pages is the famous tub sundial created by Robert Terwilliger using his laser trigon to lay out hour lines on a very irregular surface to create a working sundial.

Article Count:

1

Biographies

Who are today's sundial artisans? Here are several bioghraphies of several artisans that show the unique combination of talents in art, engineering, and mathematics.

Article Count:

6

Sunquest Sundial

Article Count:

3